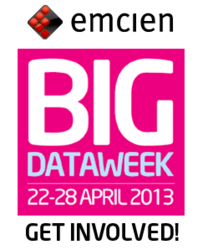 We recognize the emergence of this industry and its impact on the way we will conduct business in the future, and want to foster its growth among our local entrepreneurs seeking to maximize its potential.
Atlanta, GA (PRWEB) April 22, 2013
Today marks the start of International Big Data Week, which takes place April 22-28 around the world in cities such as Moscow, San Francisco, London, Shanghai, Toronto and more, and Atlanta is celebrating the success of having the largest branch of Big Data Week events in the world. Emcien Corp. has been selected to drive Atlanta's engagement for the global affair—In partnership with the city and dozens of community sponsors, Atlanta boasts 20+ events, 50+ speakers and 500+ unique registrants.
"As home to 13 Fortune 500 companies, the world's busiest airport and major research universities such as Georgia Tech, the city of Atlanta is uniquely positioned to be on the cutting edge of the Big Data movement," said Duriya Farooqui, Chief Operating Officer, City of Atlanta and event speaker. "We recognize the emergence of this industry and its impact on the way we will conduct business in the future, and want to foster its growth among our local entrepreneurs seeking to maximize its potential. We're excited to be part of this global event in our city."
Big Data Week Atlanta 2013 kicks off with a powerhouse event on Monday, April 22, 2013, 6-10 p.m. at the Georgia Tech Research Institute. Attendees at the kickoff event can expect a keynote from Big Data leaders at the U.S. Centers for Disease Control and Prevention (CDC), followed by a panel featuring Fortune 500 executives who will discuss Big Data's impact and the business opportunity for the future.
Speakers for this evening include:

Steve Lohr, Technology Reporter, New York Times
Michael Hickins, Editor, CIO Journal, Wall Street Journal
Joseph Guerrisi, VP Corporate Marketing, UPS
William VanCuren, CIO, NCR Corp.
Robert Candelmo, SVP, Corporate Functions, SunTrust Bank
Greg Hart, VP Technology/CTO, McKesson
Nicole Hemsoth, Managing Editor, Datanami
Marty Cetron, Director for the Division of Global Migration and Quarantine, CDC
Thoman Madden, Chief Information Security Officer, CDC
The speakers will examine the reasons why Big Data provides opportunity for immense value creation in the Metro area. Special appearances that night include:

Duriya Farooqui, Chief Operating Officer, City of Atlanta
Dr. Flavio Villanuestre, VP, Infrastructure & Products, HPCC Systems VP, Information Security, LexisNexis
Radhika Subramanian, Organizer, Big Data Week, and CEO, Emcien Corp.
Dr. David Bader, Professor and Executive Director of High Performance Computing, College of Computing, Georgia Institute of Technology
"The Metro Atlanta Chamber is excited to sponsor Big Data Week in our city. Atlanta has emerged as the global hub for mobility. We are home to the largest carriers, content distributors, security solutions, payment processing and health IT. In addition, we have the largest brands in the world blazing the trail on how to drive revenues using mobility. Mobility allows for the collection of massive amounts of data, including social media and location based services," said Larry Williams, Vice President of Technology Industry Development, Metro Atlanta Chamber. "Big data provides the memory and analytics to make real-time decisions that drive today's business. Atlanta is leading in all of these areas."
To register for the Big Data events during Atlanta's Big Data Week, visit bigdataweek.com/atlanta. Most are free to attend and Atlantans are encouraged to blog or tweet about the week's happenings (hashtags are #bdw13 and #bdw13ATL). Atlanta's leading web design firm, Eclipse Web Media, has partnered with Emcien Corp. and Big Data Week Atlanta in 2013. Eclipse will provide full video production services and a rapid turn around time for maximum viewership after the event.
"Atlanta is rich with the 'natural resources' needed to be wildly successful in the Big Data revolution, and the time is now to innovate and lead," said Radhika Subramanian, CEO, Emcien, of the Big Data landscape in Atlanta. "Big Data Week's timing is so perfect to propel Atlanta forward as the leader in this horizontal technology play that will impact every sector. I am pleased to bring the city's finest together to celebrate the explosive growth of this technology industry. I can't wait to see what the future holds."
Tickets for the kickoff event, titled "The Future with Big Data," are available here: http://bdwatlkickoff.eventbrite.com
About Emcien Corp.
Emcien's automatic pattern-detection engine converts data to actionable insight that organizations can use immediately. Emcien breaks through time, cost and scale barriers that limit the ability to operationalize the value of data for mission-critical applications. Our patented algorithms recognize what's important, defocus what's not, evaluate all possible combinations and deliver the optimal results automatically. Emcien's engine, fueled by several highly competitive NSF grants and years of research at Georgia Tech and MIT, is delivering unprecedented value to organizations across sectors that depend on immediate insight for success—banking, healthcare, insurance, retail, Intelligence and others. Visit emcien.com to learn more.