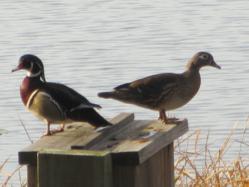 "We hope this endeavor will bring the population of Wood Ducks up and allow many generations of Floridians to enjoy the beauty of these creatures, " Fender stated.
Orlando, FL (PRWEB) April 24, 2013
According to the Florida Fish and Wildlife Conservation Commission, "Most Wood Ducks inhabit wooded, brushy, or other vegetated wetland areas. The Wood Ducks nest in tree cavities near lakes, rivers, ponds, duck nesting boxes and other wetland areas." Rick Fender an Orlando marine contractor explains, "Often nest cavities are in short supply which limits the size of Wood Duck populations. Fortunately, the Wood Ducks readily accept man-made nest boxes in place of natural cavities." FWC personnel maintain a limited number of Wood Duck nest boxes on public waters throughout the State and also cooperate with private citizens and groups such as local Ducks Unlimited chapters and Boy Scouts to maintain and erect boxes. "Sometimes these Wood Duck nesting boxes can be found mounted to docks, boathouses or the edges of seawalls," Fender remarked.
"A few years ago," Fender explained, "we began a pilot program building the Wood Duck nesting boxes from scrap lumber and surplus building supplies. We installed 20 of the Wood Duck nesting boxes around Lake Holden for friends and neighbors as a test and the beautiful Wood Ducks are becoming plentiful again," Fender said. "Now the ducklings have been jumping or falling out of the nests and swimming away to begin their lives," Fender remarked. Fender explained further, "it is really fun to watch the mother and father Wood Ducks fly a landing pattern over the lake making their approach to the nest entry. The female Wood Ducks line the nest with feathers and other softer material," Fender explained.
Fender has now announced, "Fender Marine Construction is now providing and installing a minimum of (2) Wood Duck Nesting boxes for each of our current and future marine construction customers throughout Florida. We hope this endeavor will bring the population of Wood Ducks up and allow many generations of Floridians to enjoy the beauty of these fine feathered creatures, " Fender stated.
The Wood Duck is related to the Mandarin Duck and smaller than a Mallard Duck. The Wood Ducks are smaller to medium sized ducks, with the males sporting a beautiful iridescent crested head. While the males are brightly colored, the females are a light brownish gray. Both the males and females have a white patch around the eyes and throat. The Wood Duck is a perching duck and is about 20" long with an approximate wing span of 30".
While the male's call is a rising whistle, "jeeeeeee", the females make a drawn-out, rising squeal, "doo-weep doo-weep," when flushed out, and a sharp "cr-r-eek, cr-e-eek" to sound an alarm.
Wood Ducks perch in trees, fences and other objects since they have claws and other ducks do not. Further another difference between the Wood Ducks and other North American ducks, the Wood Ducks can have up to two sets of ducklings in a single nesting season.
The females normally lay between 7 and 15 eggs that hatch after an average of 30 days. Fender explained, "after they hatch, the ducklings jump down from the nest and make their way to water. Their mother calls for them but does not assist them. At this time, only 1 day after they hatch, they are able to fend for themselves."
Fender went on to explain that the Wood Duck population was on the decline in the late 19th century because of hunting for their beautiful feathers and for food and development caused a decline in their habitat. In the beginning of the 20th century the Wood Ducks were almost extinct. Then the Migratory Bird Treaty of 1918 was enacted and the populations began to recover. In the 1930's, the nesting box was discovered which further helped the Wood Duck population to recover.
Fender Marine Construction is located at 1201 West Jackson Street Orlando, FL 32805. Potential clients can contact Fender Marine through our website at http://www.FenderMarine.com, email Rick(at)FenderMarine(dot)com or call 407-481-2750 now.