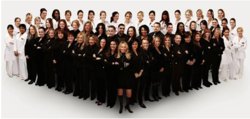 Skin Vitality is so proud to continue our rapid growth across the GTA and Ontario. All of the staff take such pride in our team and have never wavered from the number one goal of patient satisfaction.
Toronto, Ontario (PRWEB) April 23, 2013
Skin Vitality Medical Clinic proudly announces the opening of an additional four locations across Ontario. Already boasting five locations in the Greater Toronto Area: Ajax, Richmond Hill, Mississauga, Yorkville and Kitchener. The new clinics are located in Hamilton, London, Brampton and St. Catharines.
Skin Vitality Medical Clinic has been helping patients look up to 10 years younger without downtime or surgery for over twenty years. Skin Vitality specializes in the newest nonsurgical cosmetic procedures to repair and enhance the face and body, including Botox & Filler Injections, Venus Freeze Inch Loss & Body Contouring Treatments, Fraxel & Fotofacial Skin Rejuvenation Treatments and Skin Tightening Treatments. The clinic's impressive growth is due to the fact that they offer more natural results with less pain and risk as opposed to cosmetic surgery.
"Medical advances are allowing women to live longer. Living longer is creating new aging issues for women. Some of my aunts didn't make it past 60 years old and certainly were not concerned about how they were going to look in their 70s & 80s," says Eleanor Welsh, President and CEO of Skin Vitality Medical Clinic. "Today's women are more vibrant, active and healthy. They have more options today than ever before. They want to look as good on the outside as they feel on the inside and why shouldn't they?"
"As Skin Vitality began to help women look and feel their best, it became aware that some women had disempowering beliefs that they can't look fantastic in their 40s, 50s & 60s and these beliefs about aging were holding them back from being the best they can be. Women can have it all. They can have beauty, brains, family, connection, love and excitement through all their decades of life. Women today have more options in every aspect of their life than ever before. In regards to aging, with the technology and injectable options available today women can turn back the aging clock quicker and easier than we could have dreamed of 50 years ago."
Do you know every 8 seconds someone turns 40, while every 6 seconds someone turns 50 and every 7 seconds someone turns 60? Because of these Baby boomers, Skin Vitality Medical Clinic opened its first location in 1992 in Ajax, Ontario. Slowly and steadily starting to expand in 2006 by opening a second location in Mississauga, then in 2007 a third location in Richmond Hill. With 2/3 of baby boomers being extremely anxious about changes in their appearance, in 2009, another additional location opened in the heart of Yorkville followed by a fifth location in Kitchener in 2011. December of 2012 saw the expansion into the Niagara Region opening the sixth location in St. Catharines.
With Plastic Surgery on the decline, the need for noninvasive treatments began increasing radically resulting in a seventh location in Brampton and an eighth in London Ontario both in March of this year. Finally the newest location in Stoney Creek opened April 1, 2013 and a tenth location is opening in June 2013 in Markham. Baby boomers and the next generation are not willing to age as fast as the previous generation. They are determined to stay and look as young as possible for as long as possible. Non-invasive treatments are an easier, less risky way to more permanently change your appearance. Skin Vitality Medical has vast experience, a great track record and highly trained medical staff.
"Skin Vitality is so proud to continue our rapid growth across the GTA and Ontario. All of the staff take such pride in our team and have never wavered from the number one goal of patient satisfaction."
From Botox to Body Contouring to Skin Rejuvenation, Skin Vitality Medical has been helping thousands of patients cure their aging concerns over two decades. Whether people want to look years younger by erasing sun damage, brown spots, broken blood vessels, fine lines, tighten their skin on your face or body or shape up problem areas such as stomach, arms, buttocks or legs, Skin Vitality's team of medical professionals are armed and ready to take care of each patients individual needs.
"Just as quickly as computers and cell phones have transformed our way of living, anti-aging technology such as lasers, Botox injections and injectable fillers have transformed the aging process. Skin Vitality has the opportunity on a daily basis to empower women and have a direct impact on how they look and feel," explains Eleanor Welsh.
Stress speeds up the aging by shortening the life span of your cells. That's responsible for all those frown lines, wrinkles, folds and more irritated skin. Most are on board to fight that aging process as much as possible. Skin Vitality performs more of these treatments than 100% of any other doctors or nurses in Canada, consistently achieving natural, beautiful results for our patients because of our unparalleled experience and knowledge. Skin Vitality Medical Clinic staff has a doctor and team of over one hundred professionals including ten registered nurses that individually assess, educate & inspire each patient to make the most of whatever age they are. By integrating beauty and physical well being through state-of-the-art technology, Skin Vitality Medical Clinic is able to provide you with safe, effective solutions that help women look and feel rejuvenated.