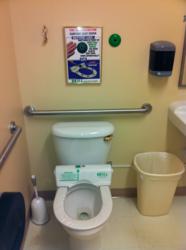 "There isn't a day that goes by that i don't receive positive comments about our restrooms because of the Brill Seats. Our business is better because our customers know that we care about them", J. Dixon owner/operator 7Eleven
Delray Beach FL (PRWEB) April 29, 2013
BRiLL Hygienic Products was asked to participate at the first TEDx event in Delray Beach, FL on May3, 2013; TEDx will be showcasing people who preach innovation, creativity and the visionary power of the human potential.
BRiLL offers an easy solution to help companies improve the cleanliness of their restrooms - Automatic Toilet Seats. This solution leads to greater customer satisfaction and loyalty and is a marketing advantage for all types of companies throughout the USA.
Using a hands-free, sanitary toilet seat and toilet seat covers, there's no fumbling with flimsy paper seat covers, or covering the seat with loads of toilet paper or washing the seat prior to use.
Sanitary toilet seat covers have the following benefits:
-Protection against the spread of germs, staph infections and bacteria
-Great help for the elderly and disabled
-Cost Reductions - less paper, littering, clogging of toilets, janitorial labor and plumbing costs.
-Increased customer satisfaction
As an example of customer satisfaction, people have chosen to go to Mohegan Sun Casino, Cabazon Outlet Stores, and 7Elevens, as well as other fine establishments because their bathrooms are cleaner than their competitors.
"The bathrooms help attract customers to the center, including shoppers from the next door Desert Hills outlets. They like our restrooms. The other outlet center doesn't offer automatic toilet seat covers. The electronic toilet seats help reduce plumbing costs and were installed over seven years ago to reduce the need for pumping out the septic tank due to paper seat covers." Caroline Thalasinos, General Manager, Cabazon Outlets *
C. Williams, a shopper at the Cabazon Outlet was ecstatic and said, "The hands-free toilet seat was really nice and you don't have to touch anything at all." *
"I love this product. As a woman, it was a God-send. I have only found this at Mohegan Sun Casino. Has anyone approached Foxwoods Casino? Their bathrooms are filthy and I won't go there anymore," emailed S. Mercier. **
The easiest and best way to get more hygienic restrooms is to use the BRiLL Hands-Free Electronic Sanitary Toilet Seats and sanitary toilet seat covers. They help thousands of businesses keep their restrooms cleaner, create greater customer and employee satisfaction, and loyalty.
Only BRiLL Sanitary Toilets and BRiLL plastic toilet seat covers are manufactured in the USA, and come with a lifetime guarantee. The BRiLL Sanitary Toilet Seats are designed to change toilet seat covers automatically after a hand is waived in front of a wall mounted, hands-free sensor. The end result is a fresh clean toilet seat for each user.
Cleanliness Is Next To Godliness and clean bathrooms are great for customers, employees and business!

"A Seat That's Always Clean" The Press-Enterprise, March 5, 2005
"Cabazon Outlets toilet seats sheathed with plastic", The Press-Enterprise, August 20, 2012
**Email from S. Mercier, August 21, 2011
About BRiLL Hygienic Products, Inc.
BRiLL is located in Delray Beach, FL, and is the only American manufacturer of hands-free, high-tech electronic sanitary toilet seats.
The company has been featured on FOX TV News, USA Today, the New York Times, the Jane Pauley Show and numerous other publications and TV news shows.
BRiLL has been in business for more than 25 years and exercises careful control over the production of all of its products to ensure the highest level of product quality, reliability and customer service.
BRiLL products are protected by USA patents and patents pending.
For more information please visit http://www.brillseat.com or call 800-330-6696