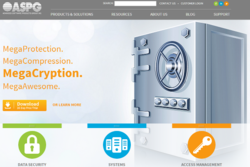 With Complete Online Presence, we turn the ASPG website into a hub destination for people looking for information on mainframe management, cryptography, E-Business server replacement, and a host of other topics
Ft. Myers, Florida (PRWEB) April 22, 2013
For Ft. Myers, Florida-based marketing, website and software company ThreeTwelve Creative, building a website is just the beginning of the enduring relationship that it tends to have with its clients – and the new website and partnership with ASPG being announced today follow that same model, says ThreeTwelve Creative co-founder and CEO David Dewhirst.
"Advanced Software Products Group has been making quality software for the enterprise for over 25 years," said Dewhirst. "We wanted the website design to reflect that quality, not only in terms of visual appeal but also in terms of making information easy for visitors to find. ASPG has world-class products; we want to get them into the hands of users."
Beyond the website launch, though, the relationship between the two companies continues with ASPG as one of ThreeTwelve Creative's Complete Online Presence clients. "With Complete Online Presence, we turn the ASPG website into a hub destination for people looking for information on mainframe management, cryptography, E-Business server replacement, password reset tools, and a host of other topics," continued Dewhirst. "We do that with ongoing content generation on the site itself, in conjunction with a very active presence in social media, press releases, email campaigns and other channels to get users to the site so they can find the information that they need. The greatest stuff in the world is useless if no one can find it."
"It's a win-win-win," concluded Dewhirst. "Users find the information they're looking for, ASPG gets their software in the hands of those who need it, and ThreeTwelve Creative is helping to make that happen."
About ThreeTwelve Creative
ThreeTwelve Creative, LLC, based in Fort Myers, Florida, manages its clients' complete online presence, generating a constant stream of original content and marketing material that attracts and captures qualified visitors and leads to double and sometimes even triple-digit growth for its clients. For more information please email creative@threetwelvecreative.com, or call 239-226-0795.
About Advanced Software Products Group
ASPG is an industry-leading software development company with IBM and Microsoft certifications, and for over 25 years has been producing award-winning software for data centers and mainframes, specializing in data security, storage administration, and systems productivity, providing solutions for a majority of the GLOBAL 1000 data centers. For more information about ASPG, please contact their Sales Team by phone at 800-662-6090 (Toll-Free) or 239-649-1548 (US/International), 239-649-6391 (fax) or email at aspgsales@aspg.com. You can also visit the ASPG website at http://www.aspg.com.