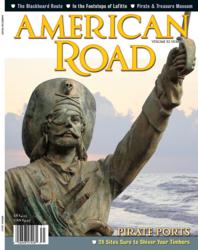 Detroit, MI (PRWEB) April 24, 2013
Don an eye patch and bring a compass—on this journey, prepare to hunt for pirates.
When American Road® decided to build an issue around a pirate theme, it needed to be done right. American Road magazine's Executive Editor, Thomas Repp, charted the first excursion to explore the Outer Banks of North Carolina and the life of history's darkest buccaneer. "The Blackbeard Route" is the newest entry in the AMERICAN ROAD® ORIGINALS Series, and the first to incorporate ferry lines in its itinerary. From the waters off Beaufort—where the wreck of Blackbeard's flagship, the Queen Anne's Revenge, was discovered in 1996—to the shores of Ocracoke Island, it traces the last days of the pirate king.
"Pirate Ports of Call" is the latest ensemble offering—a treasure trove of twenty-eight pirate-related sites from Nova Scotia's Maritime Museum of the Atlantic to Florida's Dry Tortugas National Park. "In the Footsteps of Lafitte" follows, stalking seafaring smuggler Jean Lafitte around the Gulf Coast. Even the encores have anchors: American Road's crew visits the St. Augustine Pirate & Treasure Museum, pirate rides along Route 66, and other yo-ho-ho highlights that prove the nation's fascination with pirates is alive and well.
Enjoy the bounty. At 116 pages, this is the largest edition American Road® has ever published.
What's New
American Road® recently unveiled a new digital edition; a new iTunes app for the iPad; and a new mobile site optimized for iPhones, Androids, and other smartphone devices.
Improvements to americanroadmagazine.com enable better navigation and provide the visitor with tools that make it easier to locate that roadside attraction or vintage motel or to discover that hidden landmark and make new memories on the road less traveled. Readers will find sponsored downloadable trip itineraries that make travel planning a breeze, as well as the American Road® Forums—the ultimate road trip community.
American Road® is an award-winning periodical published quarterly by Mock Turtle Press, distributed internationally by Disticor, and now available at newsstands and fine bookstores.