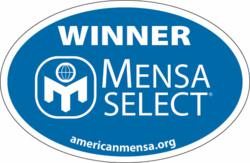 Mensa Select games are enjoyable and challenging games for everyone
Arlington, TX (PRWEB) April 21, 2013
300 judges, 54 competitor games, and forty-eight hours of nonstop board game action later, five games claim bragging rights as Mensa Select® winners! St. Louis Area Mensa hosted this year's event in St. Louis, MO. Members of American Mensa, the high IQ association, selected five Mensa Select winners at its 2013 Mind Games event. Out of the 54 entries in this year's competition, only these five will have the honor of displaying the coveted Mensa Select® seal. This year's Mensa Select games are:
Forbidden Desert: Gear up for a thrilling adventure with this cooperative game to recover a legendary flying machine buried in the ruins of a desert city. (Gamewright, gamewright.com)
Ghooost!: Play your cards wisely to get rid of all the ghosts, undead, vampires, zombies and other spooky creatures haunting your manor. (IELLO, iellogames.com)
KerFlip!: Fast anagram fun! Shout your word first to earn more points for tiles you use. Used tiles are then flipped and worthless. Ingenious cleanup built right into the box. (Creative Foundry Games, kerflip.com)
Kulami: A fun tactical game for two players that keeps you hanging until the last move is made! Players take turns on the ever-changing board. (FoxMind Games, foxmind.com)
Suburbia: A tile-laying game in which each player tries to build up an economic engine and infrastructure that will be self-sufficient, profitable, and encourage population growth. (Bezier Games,beziergames.com)
"Mensa Select games are enjoyable and challenging games for everyone," said Greg Webster, Chief Judge of this year's Mind Games event. "We hope our insights can help guide fellow game players on their quest for the best games for their collection and connect manufacturers with board game loving fans everywhere." For more information or to purchase this year's Mensa Select games, log on to http://www.mindgames.us.mensa.org.
# # #