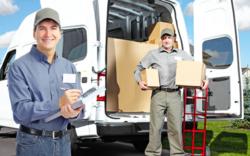 Reduce your moving cost
(PRWEB) April 23, 2013
Obtaining a professional moving cost estimate could be challenging in today's environment. Despite the abundance of moving companies and sites, the process is time consuming and cumbersome in many respects. Furthermore, a lack of detailed support and guidance makes the process extremely frustrating for customers.
To help customers navigate through the moving truck rental maze, Movers.net launched a new tool that would provide instant professional moving cost estimate in a targeted and highly effective manner. Customers would need to provide some basic answers and in response to the feedback, the tool would automatically populate individual quote requirements set forth by moving companies. The tool would then direct these companies to respond to the quote request expeditiously.
"It is like a personal moving assistant, except that it works without pay," says Margaret, who recently used Movers.net to obtain a moving estimate. "Movers started contacting me within minutes of submitting the inquiry and the following week I was off to Texas," adds Margaret.
The tool uses a complex algorithm and an extremely advanced back-end database to deliver responses in nano seconds. "It is an extremely sophisticated platform, the likes of which we haven't seen in many years," says Brenda, an analyst with Movers.net.
"It has been nearly eight months since we started the project. Our goal was to create an advanced tool that would do all the homework for customers and deliver expedited responses," adds Brenda.
A spokesperson for the company released the following statement to the media:
"We leveraged the latest advances in programming and database technologies to create a powerful and versatile platform that would provide customers with instant professional moving cost estimates within seconds. In addition to developing the technology, we developed a robust nationwide network of professional moving companies. Our relationship with these companies enables us to deliver low cost moving estimates. Customers often rave about our low costs and fanatical customer service. This latest online application is just an additional move in the direction of providing the best support for our customers."
About Movers.net
Randy Rodriguez, CEO and head of Movers.net, founded the company nearly fifteen years ago. Since its launch, Rodriguez and his team have successfully launched a series of Web-based solutions and applications to help customers move to their chosen destinations. Over the course of fifteen years, the company has provided low cost moving estimates and has helped tens of thousands of customers migrate large distances.
A large network of hundreds of movers forms the backbone of the company's infrastructure. From the biggest movers to the smallest, nearly every company finds its presence within Movers.net's network. The company estimates to have saved millions of dollars (collectively) for its customer base and enjoys a very high customer satisfaction rate. Most customers come highly recommended from previously-satisfied users.
All customers need to do is complete a short questionnaire that asks basic information about the customer's move to the new location. The system takes care of the rest.
For more information and to request a quote, visit http://www.movers.net/moving-cost/.