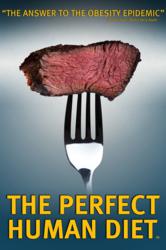 "It's only been within the last decade, maybe fifteen years that the scientific and nutritional communities have become aware that indeed our nutritional requirements are shaped by our evolution" - Loren Cordain, Ph.D. in THE PERFECT HUMAN DIET
Los Angeles, CA (PRWEB) April 22, 2013
Immensely popular, the "paleo diet" concept is arguably the fastest growing new idea in diet and health exploding across the web, print and television. But with so many versions of what "paleo" means and what foods qualify as "paleo" in the public eye, it's no wonder so many still remain confused about what's right to eat.
"People like to try and squeeze in their favorite foods and still call it "paleo" according to Dr. Lane Sebring of the Sebring Clinic and Paleo Pharmacy in Wimberley, Texas.
But today, that confusion ends as one of the documentary's featured subject matter experts and author of "The Paleo Diet", Professor Loren Cordain explains just what is and isn't "paleo", while helping Dr. Oz decode "the popular protein-packed diet that promises big results!" (doctoroz.com)
Viewers who want to know more can watch the full feature length investigative documentary THE PERFECT HUMAN DIET (@PhDdocumentary) to see Professor Cordain in action via Time Warner Cable's "On Demand", most Major Cable Systems, VOD, DVD (http://www.perfecthumandiet.com) and iTunes everywhere.
The documentary also features Gary Taubes, Michael Eades M.D., Robb Wolf, Barry Sears, Dr. Lane Sebring, Prof. Jean-Jacques Hublin, Dr. Jay Wortman, Leslie Aiello Ph.D., Andrew Weil, Boyd Eaton, David Getof and rare interviews with some of the foremost authorities on evolutionary anthropology and human evolutionary nutrition.
From excavations containing the remains of Neanderthals and early Modern Humans in Jonzac, France, to the bio-molecular anthropology analyses labs at the Max Planck Institute for Evolutionary Anthropology in Leipzig, Germany, filmmaker C.J. Hunt discovered breakthrough scientific facts that will change the way we all think about food.
About THE PERFECT HUMAN DIET:
#1 Independent Film, #1 Documentary and Top-10 Movie iTunes USA and Canada* (@PhDdocumentary, HYPERLINK "https://twitter.com/search?q=%23ThePerfectHumanDiet&src=hash"#ThePerfectHumanDiet) is an unprecedented global exploration to find a solution to our epidemic of overweight, obesity and diet-related disease - the #1 killer in America. The film bypasses current dietary group-think by exploring modern dietary science, previous historical findings, ancestral native diets and the emerging field of human dietary evolution; revealing for the first time, the authentic human diet. Film audiences finally have the opportunity to see what our species really needs for optimal health and are introduced to a practical template based on these breakthrough scientific facts. (*January 2013)