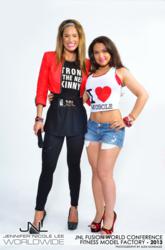 The worlds first ever JNL Fusion Classed in New York City will be kicking off on April 27th at Phyt Condition. Jennifer Nicole Lee will be making a special Celebrity Appearance on May 4th at 12:00 noon, and also teaching the class. Spaces limited.
(PRWEB) April 21, 2013
Jennifer Nicole Lee's team has confirmed a huge major break through in the expansion and growth of the internationally recognized hottest training method to date, JNL Fusion. It has now been publically released that the world's very first NYC JNL Fusion group class will be held on April 27th at 12:00 noon at the top notch premiere training facility Phyt Conditioning in New York City.
JNL Fusion Master Trainer Jessica Botte will be teaching the "workout of the century" at the historical top notch training facility Phyt Conditioning in mid-town NYC. The president and owner of this premiere workout center and training facility Jonas Serrano is a highly saught after celebrity trainer, who has trainied some of the biggest names in entertainment and sports.
He has welcomed the JNL Fusion training method into his facility to offer the endless fitness benefits and features to his already amazing menu of group classes.
International Fitness Celebrity Jennifer Nicole Lee will be making a special appearance on Saturday May 4th to welcome the new JNL Fusion workout method to New York City, and offer a free seminar on the benefits of her method. JNL will also be taking special photo opportunities with the special exclusive members who sign up for the JNL Fusion classes at Phyt/NYC located at 319 East 57th Street NYC 10022.
For more information, please visit http://www.JNLFusionCertification.com