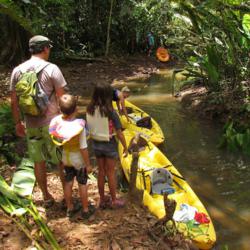 We created this itinerary especially for families to enjoy an adventure together in the jungle.
Jim Kimball, owner Tranquilo Bay Eco Adventure Lodge
Isla Bastimentos, Bocas del Toro, Panama (PRWEB) April 23, 2013
Tranquilo Bay's special family adventure itinerary brings guests into the heart of the rain forest adjacent to the Caribbean Sea. Guests will have an opportunity to experience a select group of family approved excursions in the archipelago of Bocas del Toro. What makes this itinerary different is that it was prepared specifically for families for the months of June, July and August 2013.
Day One: Arrive at Tranquilo Bay. Guided Hike or Kayak at Tranquilo Bay. A representative from Tranquilo Bay will meet the family at the airport in Bocas Town and transfer them out to Tranquilo Bay. Once they are settled in, they have the choice between a guided hike on Tranquilo Bay's two-mile nature trail, watching for wildlife, or a leisurely afternoon kayak and snorkeling session, searching out water life above and below the surface.
Day Two: Snorkel & Beach trip to Zapatilla Cayes. These pristine white sand islands, part of Bastimentos National Marine Park, are covered in coconut palms, tropical hardwoods, sea grapes, and almond trees draped in a collage of bromeliads, ferns, orchids and other epiphytes. Snapper, barracuda and vivid tropical fish abound on the beautiful reefs surrounding the area.
Day Three: Indigenous Village Visit & Jungle Hike. The family will leave the facility for a 15-minute boat ride to one of the local indigenous villages. The group will continue up the creek beneath the canopy of dense mangrove forest to the indigenous village of Quebrada Sal. Wildlife sightings may include white-faced monkeys, two- and three-toed sloths, green iguanas, Jesus lizards, poison dart frogs, butterflies, and a plethora of exotic birds as the group hiked toward Playa Larga. Surrounded by the jungle, the family will begin to hear the ocean swells. Then all of a sudden, as if someone turned on the lights, the family will exit the canopy onto the long, sweeping beach.
Day Four: Cacao Plantation Tour. The group will deploy by boat on a 15-minute passage trek across Dolphin Bay for the Green Acres Cacao Plantation. It is here where one of the rarest strands of cacao plant in the world, the Criollo, is grown. This unique project of growing cacao to save the rainforest, while making unparalleled chocolate, is not to be missed.
Day Five: Cave Nivida Exploration. In kayaks, the family will meander through the glassy calm backwaters of Bahia Honda. Following the jungle's edge of Isla Bastimentos the group will paddle through channels, deep bays, mangrove cayes, and patch reef. Many birds can be seen feeding near the waters edge, and the jungle is home to white-faced capuchins, two- and three-toed sloths, green iguanas, and caimans. A short jungle walk leads to the entrance of cave Nivida. Entering the cave with lights, the family will explore this subterranean phenomenon while wading through cold spring water and passing nectar bats.
Day Six: Bird Tranquilo Bay Trails. Tranquilo Bay's grounds include over 200 acres with several kilometers of forested trails covering different habitats. This forest and its edge are home to many of Isla Bastimentos common favorites including multiple raptors, Montezuma Oropendolas, Red-lored Parrots, hummingbirds, 5-species of kingfishers, Green Ibis, tityras, woodpeckers, honeycreepers, tanagers, pigeons, antbirds, manakins, seedeaters, and herons, and, in season Three-wattled Bellbirds. Tranquilo Bay's sixty -foot rainforest canopy observation tower provides amazing access to these creatures. White-faced Capuchins, three and two toed sloths, green iguanas, basilisk lizards, butterflies and poison dart frogs are also common on these trails.
Day Seven: Cliffs and Beaches. After a short boat ride, the family will begin an exhilarating open-ocean paddle down the dramatic windward shoreline, en route to Playa Larga. Playa Larga is a three-mile-long uninhabited beach located within the Bastimentos National Marine Park. The family paddles over reef, rock and sand bottom as it observes the jungle flora and fauna on the shoreline. This entire coastline includes beautiful white sand beaches, rock cliffs and offshore rock outcroppings.
Day Eight: Bird, Hike, Kayak or Snorkel At Your Leisure. Depart Tranquilo Bay. Depending upon the time of the family's domestic flight returning to Panama, they have the choice between a guided hike or a leisurely kayak and snorkeling session. Transfer to Bocas del Toro, for departure from Bocas del Toro.
Package Includes:
Transfers between Bocas Town and Tranquilo Bay on either Wednesday or Saturday
Meals and Beverages at Tranquilo Bay
Deluxe Air Conditioned Cabanas
Access to water and land activities directly from Tranquilo Bay
Activities daily as designated in the itinerary
This seven-night, eight-day itinerary runs $2300 per adult with two adults in a cabana. Each child 15 and under is $1150 on this itinerary which staying in a cabana with parents. Children under three may travel on this itinerary for free. We can modify this itinerary for stays three nights or longer. Pricing depends upon the number of days and nights at Tranquilo Bay Eco Adventure Lodge. All excursions are weather and condition dependent. If a particular excursion is not available then a similar excursion will be substituted.
For more information on how to book a family adventure vacation at Tranquilo Bay, please contact Tranquilo Bay.
About Tranquilo Bay:
Tranquilo Bay is an owner-operated eco adventure lodge located on Isla Bastimentos, Bocas del Toro, Panama adjacent to Bastimentos National Marine Park. The lodge has over a kilometer of Caribbean coastline covered in coral gardens teaming with tropical fish. Facilities encompass over 200 acres, a canopy tower, and over a mile of hiking trails full of wildlife.