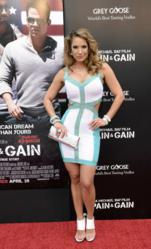 London, United Kingdom (PRWEB) April 23, 2013
Fitness Celebrity Jennifer Nicole Lee was mentioned on Katie Price's Top 10 List of the World's Hottest Women on her column for The Sun. Katie Price mentioned the reason why she elected JNL to be added to her list was for many reasons, being namely Katie thinks that the American girl's determination to slim down and get herself into shape have been an inspiration to women everywhere.
Jennifer Nicole Lee's motto is "strong is the new skinny", proving the point that curvy healthy girls are also considered to be sex symbols.
Jennifer Nicole Lee was honored to be mentioned by Katie Price, who is also a fan of hers stating "I admire Katie's fierce determination to create the life of her dreams, despite having obstacles in front of her. She is a strong minded women, who is an awesome mom, paving the way for other women to follow. I have all of her books, and appreciate what she has done for women and moms be their best. When I come to London in the fall for my October 6th Fitness Model Factory 1 Day Mega Event, maybe we can meet up! Ill be sure to have my event planner send her a VIP invitation."
Jennifer Nicole Lee's management team has confirmed that JNL will indeed by in London for the week of October the 6th, where Jennifer will be hosting a one day mega event for aspiring models to work with her Power Dream team one on one.
For more info, please visit http://www.FitnessModelFactory.com
Read more: http://www.thesun.co.uk/sol/homepage/features/4894670/katie-price-picks-out-her-top-ten-hottest-women.html#ixzz2R8GYmLO6