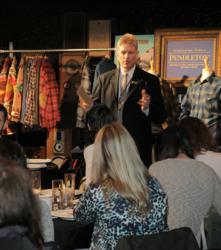 Portland, Ore. (PRWEB) April 23, 2013
Thomas Kay Collection, the new Pendleton brand launched for Fall 2013 and introduced to dozens of the nation's top fashion and home consumer magazines and customers, was the lead label in a "Brand World of Pendleton" company presentation April 11th at the Ace Hotel in New York City. Also featured was the company's newly expanded Accessory Collection (right) featuring hundreds of item: bags, backpacks and totes, tech items, personal travel accessories, scarves, headwear and more, all using familiar and treasured Pendleton patterns.
"Customers and media were all amazed at the depth and scope of the Pendleton brand; our collections for men, women and home," said Mark Korros, recently named CEO of Pendleton (shown presenting below). "Celebrating our company's founder, Thomas Kay, through this new collection and launch event was a perfect tribute to the man who started it all, but also it was an ideal venue for us to share the broader Pendleton story. Nothing makes a stronger statement about the vigor and quality of this brand than to see it all together in one setting."
Blending the time-honored aesthetic of the Pacific Northwest with a proper English refinement, Pendleton's Thomas Kay Collection of updated traditional apparel and accessories pays homage to the family company founder and namesake, whose pioneering spirit and sense of discovery led him from his home in England to America, where he brought his fine wool weaving skills to Oregon in 1863. Six generations later, Pendleton celebrates 150 years of continuing Kay's tradition of unmatched quality, craftsmanship and wool fabric innovation.
"We have taken great care to strategically differentiate the collections included in our Brand Family," says Mary Richter, Pendleton Chief Creative Officer. "Each brand, including the original Men's and Women's apparel lines, The Portland Collection and Thomas Kay, are designed with distinction, each with a unique look, style and fit. At this event, Pendleton demonstrated how the brand proudly provides consumers with a wide range of lifestyle choices."
To download all o Fall 2013 Look Books, go to http://engstrompr.com/pendleton/fall-2013-Lookbooks/Fall-2013.htm.
About Pendleton
Setting the standard for classic American style, Pendleton is recognized worldwide as a symbol of American heritage, authenticity and craftsmanship. With six generations of family ownership since 1863, the company celebrates 150 years of weaving fabric in the Pacific Northwest in 2013. Pendleton owns and operates two of America's remaining woolen mills, constantly updating them with state-of-the-art looms and eco-friendly technology. Inspired by its heritage, the company designs and produces apparel for men and women, blankets, home décor and gifts. Pendleton is available through select retailers in the USA, Canada, Europe and Asia, at Pendleton stores, through company catalogs and direct to consumer channels including the Pendleton website, http://www.pendleton-usa.com.