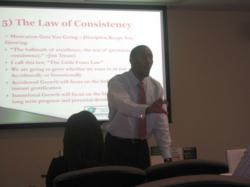 From this point on I choose to be a Game Changer, and this seminar gave me the tools to do it.
Houston, TX (PRWEB) April 23, 2013
"From this point on I choose to be a Game Changer, and this seminar gave me the tools to do it. It all starts with a choice," stated Wellness4You wellness coach, Stacey Watts.
This is just one of the many responses to the dynamic impact of the four-hour Game Changer Seminar on a group of business owners, professionals, and student leaders who gathered at a professional meeting facility in downtown Houston on Friday, April 19, 2013. What was experienced and shared that made such a dynamic impact on seminar participants?
The first ever Game Changer Seminar hosted by Leonard Simpson II, certified John Maxwell Team speaker, teacher, coach and chief relationship builder for Covenant Works Global Development, engaged and focused seminar participants on content from John Maxwell's The 15 Invaluable Laws of Growth.
Combined with the remarkable content of the 15 Invaluable Laws of Growth and the teacher's applied experience and perspective, the business owners, professionals, and student leaders were: 1) given perspective on goal achievement versus growth achievement, 2) equipped with tools to more intentionally influence progress, 3) empowered to outperform past achievements and limitations, and 4) enlightened on how simple strategies significantly impact success.
The tone was set for the seminar teaching by drawing from the most memorable moment of the 2013 Super Bowl and how that moment impacted the competing teams and the outcome of the game.
The teacher conveyed to seminar participants that the lights out situation of the 2013 Super Bowl is an example of the unexpected external factors challenging established objectives that everyone experiences in their professional and personal endeavors in life. "These are game changers," he said. He proceeded to share, "How one handles these game changers determines if they are themselves game changers."
With the tone being set on this point to give validity to the name sake of the seminar, the link to The 15 Invaluable Laws of Growth was solidified with focus on one word – potential. To be more specific and induce greater focus, potential was stated in its applicable forms – fulfilled potential and unfulfilled potential – to lead the learners to a place of hungering and thirsting for the thinking and actions of a game changer that come only from intentional growth.
A few of the responses shared by seminar participants demonstrated how the game changer teaching impacted pursuit in current and future endeavors.
Marquesha Foreman, Texas Southern University mathematics major and vice president of the National Society of Collegiate Scholars stated, "Professional development comes only after personal development. For personal development, you must value yourself."
Carolina Montenegro, real estate and financial services professional stated, "I am very thankful we were invited to this seminar. I am now inspired to keep working in building our business and growing myself."
Jason Whitlow, San Jacinto College pre-pharmacy major and student leader also stated, "A wonderful seminar. A fine collaboration of thoughts, experiences, and guidelines. The essential benefit received was the opportunity to learn about the steps necessary to be an impact in my organization. Very powerful words were spoken to help me be successful in my profession."
These responses reveal the passion with which the teacher delivered the game changer message to the learners and how it impacted the desire to move one's endeavors forward with greater fervor. More profound, however, were statements that demonstrated that the teacher was able to make an impact that reached to the core of the participants beyond just their professional and business endeavors.
Jackie Buehler, San Jacinto College education major and student leader stated, "Thank you for the great presentation. I am in a huge transition phase (period of growth) in my life. This information is perfect for helping me shape and direct my life and myself. Your presentation was very clear and also inspirational. I especially enjoyed The Law of the Mirror and the quote: 'If you put a small value on yourself, rest assured the world will not raise the price.'"
Jason G. Bowie, financial coach and owner of J.G. Bowie and Associates stated, "The material was so valuable, passionate, and intentional that whoever decides to really apply it will definitely change the game. I believe in your teachings and I have made a choice to apply this to all areas of my life."
Andrea Villegas-Shanahan, Wellness4You owner and wellness/nutrition coach also stated, "Leonard's passion and desire to want to make a difference is contagious. If you are ready to design your life, plugging into his seminars will be the game changer. My biggest take away is Leonard's heart."
It is abundantly clear that this Game Changer Seminar was influential and that decisions were made to pursue intentional growth and achieve beyond previous achievements, perceptions, and limits. Truth be told, that was the objective from the inception of the Game Changer Seminar.
"It is the ultimate accountability measure to ensure that every individual who hears the game changer perspective acknowledges that they have been equipped to act upon what has been heard and not just walk away having been motivated with good information. Life is the school of application, not the school of information," stated Leonard Simpson II.
He further stated, "This material is vitally beneficial for business owners, professionals, and student leaders as is evidenced by this first seminar. Even more, this material will be critical and game changing for high school seniors preparing to enter society as they will be equipped to face and overcome all unexpected external factors that challenge their objective of success."
There will be many more Game Changer Seminars to come, but there are more opportunities available to be equipped with the same message and perspective that previous responders have testified so passionately about.
It is personally beneficial to connect with reading material that will challenge current and past achievements. Link up with teachings that will offer new insights and encourage new experiences. Begin to reflect on past achievements and how they have truly set the stage for the emergence of new opportunities and journeys to be embraced. Plug in only with people and in environments where fulfilled potential gives aid and value to the development, stretching, maximization, and growth of unfulfilled potential.
This dynamic John Maxwell Team speaker, teacher, coach and relationship builder for Covenant Works Global Development is well equipped to lead in giving access to valuable content and in helping to accomplish the aforementioned objectives. There are workshop, mastermind study group, training, and coaching opportunities currently available to propel all who are ready to be game changers in their leadership, relationships, professions, businesses, growth, and more.
To be a true game changer, don't wait for the time that seems right to start. Start now. This is the only way to maximize achievement.
Go now to http://covenantworksgd.eventbrite.com to access just what is needed to create transformational success in every endeavor through intentional growth. For inquiries about scheduling training, seminar, keynote speaking, and coaching opportunities, call 765-38-SPEAK (77325).