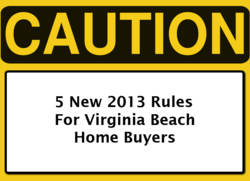 As a first time home buyer, Dennis' guidelines helped me through the buying process.
(PRWEB) April 22, 2013
The five new Virginia Beach home buyer rules in 2013 are more important now as real estate prices continue to recover coupled with interest rates at near-record lows. Many homes and condos are receiving multiple offers or going under contract almost immediately. A great location and good property condition results in a quick contract/sale.
Right now being a good and prepared buyer may put you ahead of the pack.
The five new 2013 rules are:
1. Virginia Beach buyers must be pre-approved and have a down payment ready before starting a home or condo search. Buyers must know exactly what they qualify for and what they really want to spend. Signing Up and receiving email alerts from a Virginia Beach REALTOR® for particular residential or neighborhood areas keeps buyers informed. Preapproval will help when a great deal on a house comes on the market and the buyer can immediately make an offer.
2. Multiple offers are becoming more frequent, so buyers must be reasonable without being stubborn. Until a signed purchase agreement is ratified by all parties other offers can be considered for the property. Be competitive, but not crazy. Be realistic and consider homes that are affordable. If Virginia Beach properties are selling near asking price, don't think a low-ball deal at 85% of asking price will get the purchase offer accepted.
Conducting due diligence will ensure the offer is considered. In addition to these five new rules, buyers must know "wants and needs" such as can upgrades and other minor items be done later? Do not participate in a bidding war unless it is still within the defined budget. Stick to a budget and don't become house poor.
3. Do not skip home or other inspections. Inspections are necessary to ensure no costly repairs are needed and to advise the home buyer about future planned maintenance costs.
4. Home Buyer Planning Time. Some experts say planning only 4-6 months ahead of buying a home is enough. Dennis Blackmore with Creed Realty Virginia Beach thinks home buyer preparation must start one year in advance. Three times yearly consumers can obtain the annual free credit report and avoid any surprises arising. Avoiding big purchases or incurring any big debt during the preparation time until after closing on the property is an absolute must. Debt causes credit ratios to decline and may impact the pre-approval process. The best course may be to pay down as much debt as possible. Remember the old adage – Cash is King. A good down payment or bank account makes a potential buyer look good to lenders and sellers.
5. Consider an emotional touch and submit a letter to the seller explaining how much the home or condo excites them and how they can't wait to raise the family, etc. in that particular property. Many sellers appreciate the information and the personal touch may be the one thing that helps. Be accommodating and flexible when you can in the home buying process. Working with the seller can often help and get issues resolved to head towards a successful closing.
Dennis Blackmore, REALTOR® is an Agent Owner with Creed Realty Virginia Beach specializing in helping first time, move-up, and military/relocation buyers. For more information you can contact Dennis here.