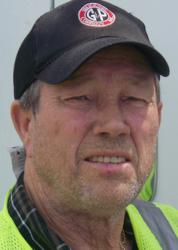 I'm not a hero. I just did what you have to do in life.
Alexandria, Virginia (PRWEB) April 22, 2013
The Truckload Carriers Association (TCA) is pleased to add another professional truck driver to its roster of Highway Angels. Calvin White of St. Pauls, North Carolina, who drives for G&P Trucking Company, Inc., of Gaston, South Carolina, is being recognized for his efforts to assist at an accident and for rescuing a young boy.
On November 25, 2012, at about 1 p.m., White was driving northbound along I-95 in Halifax, North Carolina, on his way to drop off a load. He noticed a pickup truck traveling southbound. Suddenly, it ran off the road and headed into the median. Luggage and other items came flying out of the back of the vehicle. The driver overcorrected, causing the pickup to flip several times and land upside down on its roof.
White could see steam rising from the vehicle and worried that a fire could start. He stopped his tractor trailer safely on the side of the road and was the first person to reach the scene. He wondered if anyone had been ejected, but did not see anyone out on the ground. Spying a shovel near the pickup, he used it to pry the passenger door open and pulled a young boy out. The boy had sustained serious head injuries and was in shock. White handed the boy to a woman who had stopped to help and turned his attention to the driver, who was most likely the boy's grandfather. He started to cut off the seatbelt but, unfortunately, it was too late—the man had already died.
"I'm not a hero. I just did what you have to do in life," said White. "This is my 44th year of truck driving. I've seen a lot of accidents in my time. If I can assist, I will."
For helping the accident victims, White was presented with a Highway Angel lapel pin, certificate, and patch. G&P Trucking also received a certificate acknowledging that one of its drivers is a Highway Angel.
TCA's Highway Angel program is sponsored by Internet Truckstop. Since the program's inception in August 1997, hundreds of drivers have been recognized as Highway Angels for the unusual kindness, courtesy, and courage they have shown others while on the job. TCA has received letters and e-mails from people across North America nominating truck drivers for the program.
To learn more about the Highway Angel program or to nominate a driver, please visit http://www.truckload.org/highway-angel.
# # #
TCA is the only national trade association whose collective sole focus is the truckload segment of the motor carrier industry. The association represents dry van, refrigerated, flatbed, and intermodal container carriers operating in the 48 contiguous states, as well as Alaska, Mexico, and Canada. Representing operators of more than 200,000 trucks, which collectively produce annual revenue of more than $20 billion, TCA is an organization tailored to specific truckload carrier needs.
Founded in 1995, Internet Truckstop is the first and largest freight matching service on the Web. Internet Truckstop offers more tools than any other freight matching service available. These easy-to-use tools, the largest freight database, and a commitment to the transportation industry make Internet Truckstop the leader in Internet freight matching.