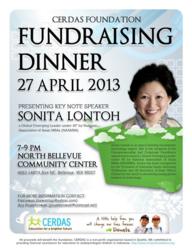 Every child, regardless of ethnic, religious, social, political or economic background, should have equal access to education to ensure a sustainable future for all.
Seattle, WA (PRWEB) April 22, 2013
Indonesian Diaspora Foundation (IDF), a nonprofit organization focused on empowering Indonesian diaspora worldwide, is collaborating with CERDAS Foundation, a community-powered nonprofit focused on helping underprivileged Indonesian children, to make the upcoming fundraising dinner a success. The 2013 CERDAS Annual Fundraising Dinner aims to create awareness, raise money and take real actions to help underprivileged children in Indonesia go to and graduate from school.
The cost for education is simply beyond the reach of many underprivileged children in Indonesia, the world's fourth most populous country. According to UNESCO, approximately 15% of students who enter elementary school leave school before reaching the final grade. According to the Committee on the Rights of the Child, the drop-out issue is mostly a financial matter. Tuition fees and other school costs forced some students to drop out of mandatory education (elementary and junior high schools). The other school costs include infrastructure fees, books, supplies, uniforms, shoes, and transportation fees. Another reason for dropping out of school is because parents simply prohibit them from schooling because these children have to help parents working to support the household.
Sonita Lontoh, IDF's Chairman, will deliver the keynote address to guests, and reflect on how her involvement with education and giving back, has shaped her leadership journey. Lontoh is a Global Emerging Leader under 40 and a recipient of the Global Corporate Excellence and Entrepreneurship award. She has diverse leadership experience at Fortune 200 companies, top-tier management consulting firm, and venture-backed Silicon Valley technology companies. Internationally-recognized as a technology and leadership advocate, she is a frequent speaker/contributor to publications such as Forbes, MIT Entrepreneurship Review and the Huffington Post. Lontoh is an active leader in several nonprofit and professional organizations, including the TechWomen program, an initiative of the U.S. Department of State's Bureau of Educational and Cultural Affairs (ECA), launched by former Secretary of State Hillary to help the United States engage in "smart power diplomacy".
"We are delighted to work with Ms. Lontoh and IDF whose vision, proven leadership and dedication made them the right partner to collaborate with," said Ismail Budhiarso, President of CERDAS. "Ms. Lontoh and IDF are passionate advocates for equal access of quality education for all children, regardless of economic background, which is the essential ingredient for success in the 21st century and beyond."
"IDF and I are honored for the opportunity to work with CERDAS in this commendable endeavor," said Lontoh. "Every child, regardless of ethnic, religious, social, political or economic background, should have equal access to education to ensure a sustainable future for all. It is this vision that IDF and CERDAS are hoping to achieve."
What: Fundraising Dinner, with live & silent auctions, door prizes, great food, and entertainment.
Who: CERDAS Foundation with Sonita Lontoh, Chairman of IDF as keynote speaker
When: Saturday, April 27, 2013 at 07:00 Pacific Daylight Time
Where: North Bellevue Community Center, 4063 148th Avenue NE, Bellevue, WA 98007
Contact: Patriawan [nawairtap(at)yahoo(dot)com] or Ary Prasetyowati [prasetyowati(at)comcast(dot)net]
About Indonesian Diaspora Foundation (IDF)
The Indonesian Diaspora Foundation (IDF) is a nonprofit organization focusing on empowering Indonesian diaspora worldwide, strengthening the Indonesian educational system and providing humanitarian assistance. IDF's flagship initiatives include Computers for School, One-on-One Foster Family and Diaspora for Diaspora programs. For more information and to get involved, please visit http://indonesiandiasporafoundation.org/support
About CERDAS Foundation
CERDAS Foundation a 501(c)(3) nonprofit organization registered in the State of Washington. It is a community-powered organization driven by a vision of a world where children have equal access to education, regardless of their ethnic, religious, social, political or economic backgrounds. The name CERDAS is Indonesian for "intelligent" and is used to describe a sharp mind. It reflects the inspiration behind the organization – intelligent young minds that represent our hopes of a better tomorrow. For more information, visit http://www.cerdasfoundation.org