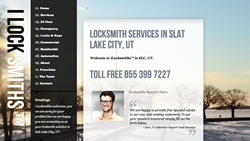 Salt Lake City, UT (PRWEB) April 23, 2013
There may be many locksmith companies in the industry but not all the service providers create an impact on the customers. Only few companies manage to be successful in the industry. iLocksmiths is one such company that has managed to be an industry leader for over eleven years by providing the customers with excellent services. iLocksmiths continually works on improving the quality of the services offered and one of the latest efforts that has again set the company apart in the industry is the free estimate service in Salt Lake City, UT announced by the company.
The recent announcement comes as a great money saver for the customers. There will be no need to pay the service call fee and the trip charges when customers call iLocksmiths, the most preferred SLC locksmith. Customers can how get an accurate estimate well in advance and decide whether to hire the service or not. iLocksmiths free estimate service comes with no strings attached. Customers are free to decide whether to use the SLC locksmith or not.
iLocksmiths as one of the most reputed locksmith companies in the industry always delivers the best to the customers. iLocksmiths maintains very high professional standards in delivering the company's services. The company operates its network in number of top cities in the US and continues to expand its network to many new cities too. By far iLocksmiths is one of the fastest growing networks of locksmiths. The company has already over 500 technicians operating in different parts of the US.
Customers find the option get free estimates before hiring the service very helpful. The free estimate service helps the customers make well-informed decisions in choosing their service providers. iLocksmiths has been offering the company's services at highly competitive rates. All the technicians registered with iLocksmiths are fully licensed service providers with vast experience. iLocksmiths offers all types of locksmith services including lock repairs, car door unlocking, lost key replacement, safe combination changes, setting up of high security locking systems, access control systems and more. The reliable locksmith service offered by iLocksmiths has made the company the number one service provider in the industry. The latest free estimate service launched by the company gives the company a further boost in the industry. iLocksmiths helps customers save both time and money while hiring locksmith services in Salt Lake City and the other top cities.
About iLocksmiths
iLocksmiths is one of the most dependable networks of locksmiths that offer incomparable services at the cheapest prices. The service areas of the company include Brooklyn, Manhattan, Bronx and Queens. The company continues to expand its network as well as its service areas to meet the increasing demands. For further information about the free estimate services launched by the company and to learn in detail about the wide range of services offered by iLocksmiths, please visit http://slc.ilocksmiths.com.