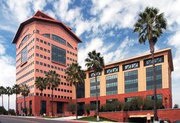 Lose the cellulite, not all cheeks are cute with "dimples".
San Diego, CA (PRWEB) April 25, 2013
Shaft Medical San Diego, the West Coast's leading aesthetic medicine practice, providing the full range of advanced cosmetic procedures and located in beautiful La Jolla California, now offers PureLight Cellulite Heliotherapy to improve the appearance of stubborn cellulite.
Available only at Shaft Medical, PureLight Cellulite Heliotherapy San Diego and La Jolla is the remarkably effective non-invasive solution to cellulite that people have been waiting for.
Cellulite is a condition which affects more than 85% of women, even being apparent on very lean women, but rarely seen in males. It appears when fat cells just underneath the skin swell or enlarge and the collagen bands become brittle and no longer stretch properly. This is what causes the "dimpled skin" appearance. It is not a result of poor diet and exercise, or increased body fat as most people think. The development of cellulite is primarily caused by hormones, vascular changes, and inflammation.
PureLight produces a low level, or "cold laser" light that targets the membrane of the trapped fat cells that cause cellulite. The penetrating light energy then allows applied laser energy to eject the fat from the trapped cell so it can move into the body's natural waste removal system.
PureLight Cellulite Heliotherapy's new and innovative technology is non-invasive and UV free. It can be used to treat cellulite anywhere on the body and is safe to use on patients of all skin types. There are no side effects or sensitivity to sun and there is no downtime. Skin care products may be applied immediately after treatment, and patients can resume all normal activity.
PureLight treatments are painless and soothing and can provide visual results in as little as 48 hours. Patients will begin to see gradual tightening and smoothness of the skin. Each session takes about 45 minutes depending on the size and number of areas being treated. A total of 3 weekly sessions are recommended, however, additional sessions maybe required for resistant areas. Results depend on body weight and lifestyle. Proper diet and exercise regime will help maintain the results for up to several years.
In addition to the treatment of cellulite, PureLight Heliotherapy system has been found to restore the skin's natural and healthy appearance.
About Shaft Medical San Diego
Shaft Medical San Diego specializes in the very latest advanced aesthetic medicine procedures.
As Southern California's leading provider of Automated FUE Hair Transplantation, the practice offers NeoGraft "No Linear Scar" Hair and Eyebrow Restoration, MiXto SX Micro Fractional Skin Resurfacing Laser for acne scars and skin rejuvenation, PureLight Cellulite Heliotherapy, Alma Accent XL Radio Frequency Laser for skin tightening, QuadraSculpt Liposuction Body Contouring Surgery, Prolite IPL Laser for hair removal and facial rejuvenation, Laviv Personal Skin Cell Cloning Therapy and NeoGraft LTS Cold Laser for acne and enhanced hair growth, as well as Botox, Xeomin, Dysport, Juvéderm, Belotero, Radiesse, Sculptra, Latisse for eyelash growth, and varicose vein and spider vein treatment.
Shaft Medical's modern and highly discrete La Jolla office serves clients throughout Southern California including San Diego, Orange, Riverside and Los Angeles counties, and the Palm Springs area.
For more information about Cellulite Treatment San Diego and La Jolla, please see the Company's website at http://www.shaftmedical.com.