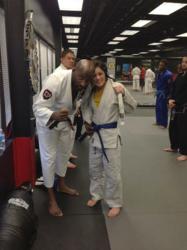 Camp Springs, MD (PRWEB) April 22, 2013
Last week on April 18th, it was the honor of Master Lloyd to promote three students to the rank of Brazilian Jiu Jitsu Blue belt. Carlo, Angelo and Roya Darvishian all had the honor of new belt rank. Alongside Master Lloyd for the promotions was Master Donnie Achnick, head of the kids and teens program at Lloyd Irvin Martial Arts Academy.
First up was Roya Darvishian, a member of the Team Lloyd Irvin Ladies team, Roya is also an amateur MMA fighter. She's been training for over a year with Team Lloyd Irvin, and self-proclaimed "gymrat" Roya balances a part-time job at UPS while training.
Second to be promoted that night, was Angelo. Only 17 years old, Angelo has been part of the kids jiu jitsu program since he was five years old. As a blue belt now, he looks to compete in the Adult division soon.
Last, and certainly not least, of the promotions that night was Carlo. April 18th marked his 16th birthday and his first day as a blue belt. Carlo is not only a stand out jiu jitsu practitioner, but a stellar student as well. Carlo carries a 4.37 gpa while taking 4 AP classes; Calculus, Statistics, English, and World History.
Looks for all these new Blue belts to do well at the next level of Jiu Jitsu competition.