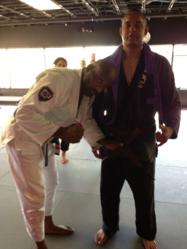 It's been a long time coming...
Camp Springs, MD (PRWEB) April 23, 2013
Ron Seldon was promoted to Team Lloyd Irvin Brown belt this past Saturday, April 20th. Ron, 46 years old, has been training Brazilian Jiu Jitsu for 7 years under Master Lloyd Irvin and Ronald Stallings (Top Flight MMA, MD).
Seldon works full-time for the Army, but still has time to train at TeamLloyd Irvin/Top Flight MMA 2-3 times per week. Ron has also been competing quite a bit over the last 7 years, win in the IBJJF NY Open for the last 4 years consecutively. He also won the 2012 IBJJF No Gi Pans at Master Purple belt.
Ron says of the promotion, "It's been a long time coming and I'm ready to compete at the brown belt level."
Ron's goal is to win the IBJJF Master/Senior World Championships in 2014 when the tournament will be decided in Long Beach, CA.