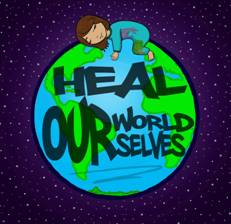 Eleven year old spokesperson Nia Sioux Frazier,one of the dancing stars from "Dance Mom" says "I think the "Heal the World, Heal Ourselves" Campaign is really important because it will give kids like me a chance to have a positive voice in entertainment".
Los Angeles, CA (PRWEB) April 22, 2013
Imagination Heals, BALANCE Edutainment, allied organizations and celebrities are aligning together to launch the "Heal Our World, Heal Ourselves" campaign to relay the simple message that If we tell stories that illuminate, inspire and transform our relationship with the natural world and one another, we heal ourselves AND the planet.
On April 22, Earth Day 2013, the campaign will publish an open letter calling upon mass media to learn about transformational entertainment, thereby increasing the amount of children's entertainment and media that:

Illuminates the good that is happening in the world
Inspires creative expression and positive action
Transforms how children and families see the world
Tells stories of a brighter future
Supports the development of today's children.
Imagination Heals was created to bring transformational entertainment to hospitalized children. On February 22, 2103 at the Beverly Hilton Hotel in Beverly Hills, Imagination Heals debuted with a launch party introducing the organization to a standing-room only, star-packed crowd. It was a historic night with award-winning musicians, celebrities, prized athletes, an Olympic gold medalist - Cathy Rigby - and change makers in the Hollywood community, coming together to express their commitment for healthy children living in a healthy planet.
It was a stellar success and garnered significant attention and exposure within the Hollywood community. In early 2014, excellence in transformational entertainment for children will be recognized and celebrated at the 2nd annual Imagination Heals event.
Together, BALANCE and Imagination Heals created the "Heal Our World, Heal Ourselves" campaign to raise awareness and engage with the purveyors of children's and family entertainment and media. The campaign has six youth spokespeople: Avalon Theisen, educator and frog advocate of Conserve it Forward; Nia Frazier of Dance Moms TV show; Felecity, youth singer on Pacha's Pajamas; Lil JaXe, youth rapper on Pacha's Pajamas; Mario Ridgley, Jr, talk show host of Alive and Green; and Xiuhtezcatl Martinez, international activist and rapper of Earth Guardians. The mother of Nia Frazier, Holly Frazier, is also a spokesperson. Conserve It Forward and Earth Guardians are both key partners in the campaign.
Celebrity Signatories supporting the campaign include: Hill Harper, author and actor (CSI); Jordana Brewster, actress (Dallas); Shawn Stockman, Boyz 2 Men; Dr. Michael Beckwith, spiritual leader and author; Kimberly Caldwell, American Idol Finalist and singer/songwriter; Q'Orianka Kilcher, award-winning actress; Ray Charles Jr., producer (Ray); Lil Jaxe, rapper, Deidra Hall, actress (Days of Our Lives); Prince Raphael Shawan, Performer (Tweet aka Next);Stephen Kramer Glickman (Nick's Big Time Rush) and Lester Chambers of the legendary Chambers Brothers.
A strong contingency of support hails from Lifetime TV series, Dance Moms with Paige, Kelly and Brooke Hyland, Nia and Holly Frazier, Jordyn Jones, Asia Monet Ray and the musical comedy-drama series,Glee endorsers Iqbal Theba and Josh Sussman.
Eleven year old spokesperson Nia Sioux Frazier says "I think the "Heal the World, Heal Ourselves" Campaign is really important because it will give kids like me a chance to have a positive voice in entertainment. There are so many talented kids that are doing really awesome things in the community, and it would be neat to have a better way to share those stories."
Over 50 organizations have also signed on including the Sierra Club, 13 Indigenous Grandmothers, Hip Hop Caucus, Children & Nature Network, Pachamama Alliance, California Student Sustainability Coalition, ASAP Science, Ankh Marketing, Humanity's Team, Kids vs. Global Warming, Global Exchange Post Carbon Institute, A Forever Recovery, Best Drug Rehabilitation, Dancing Without Borders, Million Mamas Movement, Sustainable World Coalition, Humanity's Teams, Unify, Save The Frogs, Elevate Films, Institute for Humane Education and many more. The campaign is gathering more signatories through Earth Day and beyond.
The campaign launches with an urban dance video produced by BALANCE Films and A Forever Recovery. Over 50 people united to create and produce the video in just 5 weeks. The video was directed by Arne Wong, the first Director of the popular children's animated series "Dora the Explorer," and features top dancers from the Bay Area, nationally acclaimed choreographer Yeni Lucero, and ten year old actor Maya Gaskin. The video itself is an example of transformational entertainment, showing a young girl's dream journey as she overcomes unsavory aspects of pop culture with help from of a handful of superheroes from nature including a hummingbird, mushroom, whale, pebble and jaguar. To View the Video: http://youtu.be/qwoWkFQqXs0.
For more info: http://balanceedutainment.com/heal-world-heal-ourselves/
About Imagination Heals
Imagination Heals brings uplifting children's stories, activities and celebrities to the lives of hospitalized children, helping them experience personal growth when they need it most. Their focus is helping children develop creative self-expression through imagination-based activities which promote self-confidence, perseverance and resilience. This program has been designed to help patients and families gain practical tools and growth experiences through creative interactions with our Imagination Heals team.
About BALANCE Edutainment
BALANCE Edutainment is a studio that produces pop culture which supports the healthy development of today's children. As a certified B Corporation, BALANCE aims to create content that helps kids understand and navigate their world, so that they may relate and create at their highest potential. Their flagship is Pacha's Pajamas, the story of a little girl who whose magical pajamas whisk her away to imaginary worlds where she discovers everything she needs within herself. In the first story of the series, Pacha journeys to an epic music festival organized for (and by) plants and animals. Through this dream experience, Pacha falls in love with nature and by extension, herself, fully realizing her capacity and responsibility to positively impact the world. Pacha's Pajamas is a nominee for the Independent Music Awards in the Children's Music Album category. http://www.pachaspajamas.com
Press Contact:
Dawna Shuman, Lighthouse Public Relations
Tel: 818.789.1077
dslighthousepr(at)aol(dot)com