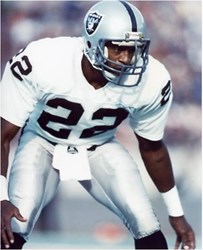 San Diego, CA (PRWEB) April 23, 2013
Announced today, Mike Haynes has also joined the awareness campaign. Mike Haynes is considered, by many, to be one of the best corner backs ever to play the position. Mike Haynes, a nine-time Pro-Bowl defensive back of the National Football League and member the NFL Hall of Fame, was known for his quickness and range of motion when he played for the New England Patriots and the Los Angeles Raiders. However, he could not maneuver his way around prostate cancer.
"Cancer does not care if you're a Hall of Famer, your zip code or how much money you have," says Haynes, who is quick with a smile. Haynes was surprised to know that if a person is snoring and has other types of 'sleep disordered breathing', as it is known, can deprive the body of enough oxygen for hours at a time. Scientists now believe that having low blood oxygen levels can trigger the development of cancerous tumors by promoting the growth of the vessels that feed them. In the future, doctors could help people fight the disease by stopping them from snoring. More statistics can be found in the full article found at snorerx.com © 2012 Apnea Sciences Corporation
The results were presented on Sunday at the annual conference of the American Thoracic Society in San Francisco. They have also been published in the American Journal of Respiratory and Critical Care Medicine.
He recently decided to not only raise the issue of undiagnosed sleep apnea, but also to lend his considerable star power to inform and educate fans about the dangers of sleep disorders. Pro Player Health Alliance events gather up to 500 people that are diagnosed and undiagnosed with sleep apnea. In attendance of these events are former NFL and NBA players as well as local patients that come to hear stories and testimonials from their gridiron heroes as well as receive an educational message from medical and dental professionals with special training in Sleep Medicine. David Gergen, Founder of PPHA, was inspired to start PPHA by his friend Derek Kennard who is a former NFL Lineman and Super Bowl Champion with the Dallas Cowboys. David fabricated an oral appliance for Derek to wear while he sleeps. Kennard has sleep apnea, but is unable to wear his CPAP device because he finds it bulky and uncomfortable. Since receiving the oral appliance Derek has had the energy to exercise again and has lost over 170 lbs.
The next public awareness event this May will be hosted by one of the country's most experienced and well-known doctors, Dr. Bradley Eli in California. Registration for this event is free to the public.You can keep up-to-date on upcoming events by following Pro Player Health Alliance on Facebook and see when PPHA will be rolling into a city near you!
Event Details
Date: May 21, 2013
Time: 7:00 PM
Location: Scripps Schaetzel Center, 9890 Genesse Ave La Jolla, CA
About Pro Player Health Alliance
The Pro Players Health Alliance (PPHA) is an organization dedicated to helping former NFL players, through providing testing and treatment options for those who suffer from sleep apnea. In addition, the PPHA is dedicated to integrating education and raising sleep apnea awareness, in a fun and memorable way. In addition to the campaign, the PPHA is dedicated to testing and getting people treated who suffer from sleep apnea. The PPHA was created by David Gergen, President of Gergen's Orthodontic Lab and Former NFL legends.