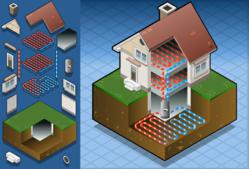 Not every handyman installs some of these eco-friendly solutions or uses nontoxic or green materials. Seva Call can help you find exactly what you're looking for in minutes
National (PRWEB) April 22, 2013
Every homeowner, like everyone else, has a responsibility to take care of home, and not just their residential property. Yet, even with climate change, an energy crisis, and mounting health concerns about toxins in building materials and other household problems, homeowners still feel overwhelmed and confused about how to make homes more eco-friendly and energy-efficient. So, in honor of Earth Day, Seva Call offers tips on the best green home-improvement options.
Install Custom Replacement Windows:
A custom replacement window is built to fit the opening of an existing window hole. They are built to be as precise to the measurements as possible. They need to be exact so that they can be installed without damaging the areas around the window. Custom windows save energy in a home by better insulating it and keeping air from slipping through the cracks.
Switch to Geothermal Heating:
This type of heating basically uses the heat that is stored beneath the crust of the earth as a renewable resource. There is an enormous amount of potential in this type of power. Geothermal-powered furnaces are 48% more efficient than gas furnaces. Not only can homeowners save money, they can help the environment while heating the home more efficiently.
Switch to CFL Light Bulbs:
They are the kind with the spiral. They are just as bright as traditional, or incandescent, bulbs and save homeowners on their electricity bill. Lasting 10x longer than traditional bulbs, just one Energy Star-rated light bulb can save up to $30 in energy costs over its lifetime. They even save on cooling bills because they give off much less heat than their counterparts. That's why in 2007, Americans saved enough energy by switching bulbs to power the city of Washington DC for 30 years while reducing enough greenhouse gasses to match 2 million cars being taken off the road.
Install Toilets That Use Less Water:
Some toilets use less than a half-gallon of water per flush. They work by offering a larger water hole, which makes it easier for wastes to be flushed down the drain. An air system is also used to help remove waste. These types of systems are often used on trains and airplanes. In the end, the water used per flush is significantly less than traditional toilets, especially if those traditional toilets are constantly running or malfunctioning in other manners.
Install Solar Panels:
Saving money on energy through solar panels is becoming more popular than ever these days, but it isn't exactly common sense to install them. There is a lot more to the process than more traditional projects, but a qualified roofer can help them figure our which kind of panel a home requires so that they can start saving money and the environment by harnessing the power of the sun.
Use Green Building Materials:
When doing a renovation, addition, or paint job, homeowners should consider renewable and nontoxic options. For example, while carpets tend to contain volatile organic compounds that harm respiratory health, bamboo replenishes more quickly than wood so using it in the home is healthier for residents and the environment. Homeowners should consult contractors to explore nontoxic and renewable options for paint, insulation, and other building considerations.
Find a Contractor:
Of course, knowing what's the right to do with one's home for the sake of everyone's home is only half the battle. A lot of homeowners struggle to find the right contractor, meanwhile the status quo continues to wreak havoc on their wallets and the environment. To get connected with a top-rated contractor to give the home a n eco-friendly makeover, homeowners can simply visit http://www.sevacall.com and enter their details to talk to their first contractor in under 90 seconds.
"Not every handyman installs some of these eco-friendly solutions or uses nontoxic or green materials. Seva Call can help you find exactly what you're looking for in minutes," explains Manpreet Singh, Seva Call Co-Founder
Seva Call raised $1.3 million in Series-A funding last fall and has launched in 30 cities across the United States including Miami, Atlanta, Birmingham, Baltimore, Philadelphia, and Boston. Connect on Facebook, Twitter, and YouTube.