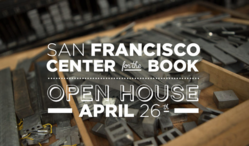 "The San Francisco Center for the Book plays an invaluable role in teaching skills and encouraging the book arts through classes and exhibitions." Andrew Hoyem, Arion Press
San Francisco, California (PRWEB) April 22, 2013
Pull a keepsake letterpress print from a vintage Vandercook cylinder press at the Spring Open House at the new location of the San Francisco Center for the Book.
To celebrate the move to 375 Rhode Island Street, SF Center for the Book invites visitors to participate in a range of free events and activities in the Center's print and binding studios on Friday, April 26th from 6:00 – 9:00pm.
The preliminary overview of demonstrations and participatory activities includes letterpress printing, bookbinding demos, artist trading cards, collage, calligraphy, hand lettering, and demos on vintage printing presses.
See full list of activities at 
http://sfcb.org/events/open-house
Printing Demos and Activities
Letterpress Printing with Leigh McLellan | 6:00 - 8:30pm
Scratch Film Printing with James Tucker | 6:00 - 9:00pm
Platen Press Printing Demo with Meredith Hudson | 7:00 - 9:00pm
Binding Demos and Activities
Maze Bookmaking with Nina Zeininger-Byrne | 6:00 - 9:00pm
Advanced Binding Demo with Juliayn Coleman | 6:00 - 7:30pm
Small and Scrappy Demo with Judy Serebrin | 6:30 - 7:00pm
Arts Demos and Activities
Artist Trading Cards with Courtney Cerruti | 6:00 - 9:00pm
Collage, History and Technique with Taun Relihan | 8:00 - 9:00pm
Hand Lettering Names with Billy Hutchinson | 6:30 - 8:30pm!
Exhibition
Al-Mutanabbi Street Starts Here with Beau Beausoleil and Sas Colby | 6:00 - 9:00pm
Learn about this powerful exhibit of fifty-four artists books created in response to the bombing of Al-Mutanabbi Street in Baghdad, the heart of the cultural community and the street of poets, writers and booksellers.
So SFCB will have enough materials on hand for everyone to be creative, please let them know you'll be attending
RSVP at https://sfcb.org/civicrm/event/register?id=1075&reset=1
Facebook Event Page: https://www.facebook.com/events/147059698802279/
Location
San Francisco Center for the Book
375 Rhode Island Street
San Francisco, CA 94103
415 565 0545
About the San Francisco Center for the Book
The first center of its kind on the West Coast, SFCB was incorporated in March of 1996 as a 501(c)3 nonprofit organization. SFCB fosters the joys of books and bookmaking, the history, artistry, and continuing presence of books in our culture and enduring importance as a medium of self-expression. Over 300 workshops annually offer learning at all levels: from introductory to focused advanced courses spanning traditional bookbinding, cutting-edge printing techniques and experimental book forms. Free public programs include opening receptions for the exhibition program, poetry readings, book release parties for our publications, gallery talks, Open Houses and other community events like the annual Earth Day Extravaganza and Roadworks Street Fair.