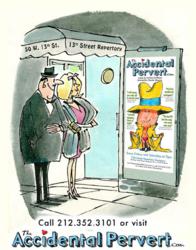 Spending a night behind the scenes with The Accidental Pervert: Priceless
New York City, New York (PRWEB) April 28, 2013
The Accidental Pervert is a comedic coming of age story about love, sex and relationships. Now in its incredible 4th successful year at the 13th Street Repertory Theater in Manhattan, it's offering premium VIP tickets for a unique experience for theater and comedy fans.
"Have you ever wanted to see how an off-Broadway show is really put together?" says Andrew Goffman, writer and star of The Accidental Pervert. Participants in this special offer will be given a tour of the theater, they will spend time backstage, in the lighting and sound booth, and they will be able to talk with Andrew and director of the hit show The Accidental Pervert, now in its 4th smash year.
I recently had a chance to talk to Andrew, the star of the show, about the VIP ticket: "I really want to give people a special experience with this ticket. They'll get an autographed t-shirt and free drinks, they'll sit right in the front row to be close to all the action, and I do a lot of audience participation in the show so this will be especially fun. Also, they get a backstage tour with me and the director Charles Messina, which give a really fascinating look into the production of the show."
Goffman will only release limited numbers of VIP tickets for each Friday and Saturday show. He says, "We want to make sure they get the full experience and feel like a Very Important Pervert."
VIP tickets for The Accidental Pervert are available now:
Seeing an off-Broadway show: $30
Spending a night behind the scenes with The Accidental Pervert: Priceless
Well, actually it's $100. But it includes, a front row seat, an autographed Accidental Pervert t-shirt, backstage tour of the show by its star and its director,and two free drinks from the concession.
Want to grab a VIP ticket to off-Broadway's hottest show?
Follow the purchase tickets link from The Accidental Pervert page.
See The Accidental Pervert every Friday and Saturday night at the 13th Street Repertory Theatre, 50W 13th St (between 5th and 6th Aves). Tickets can be purchased online or by phoning 212-352-3101.
For more information please go to:
------------------------------------------------------------------------------------------
The Accidental Pervert is a laugh-filled show with a serious underlying theme. For three years, Andrew has been entertaining sold out crowds with the story of what happened after he found his Dad's stash of adult videotapes when he was eleven years old. He takes the audience on a comic journey through his porn-influenced eyes, to reveal how his exposure to pornography overshadowed his relationships with women for many years, until he finally became a loving husband and father.
The show is also running in Panama at the La Quadra Theatre, with additional runs planned for Panama and other points north, south, east and west of New York City and wherever Perverts are found!
The show is directed by Charles Messina.