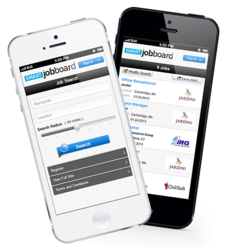 Las Vegas, Nevada (PRWEB) April 24, 2013
SmartJobBoard is working on the development of universal job board software platform. The company is on top of modern web technologies using the most advanced software development tools. Job board products and services of SmartJobBoard would fit equally well to any employment resource no matter of its size and target audience. Today SmartJobBoard announces the release of the new Mobile Version.
"Mobile Internet is getting more and more popular in our days. Some sources report that in 2013 mobile phones will surpass personal computers as the primary means of accessing the Internet. That is why it is critical to provide a mobile optimized service for a modern job board. Keeping this in mind we consider mobile solutions as one of our most priority directions." told Ben Akylbekov, SmartJobBoard Product Manager.
First of all the design of the Mobile Version has significantly changed. It now perfectly qualifies to the modern trends of mobile web design. Moreover SmartJobBoard has drastically improved the usability of the Mobile Version. It looks and functions equally well on all smartphones including iPhones and Android based devices.
The company has also included some additional functionality to its new Mobile Version of a job board. Mobile Version has become an independent career tool for the contemporary Job Seekers giving more and more preferences to mobile recruitment. Job Seekers can now register on the job board, search jobs by keywords and location (including radius search), save job alerts without leaving the Mobile Version. They are alble to manage their profile, resumes, saved jobs directly from their accounts.
The new job board Mobile Version is a fresh update for the SmartJobBoard products range. This is a comprehensive contrubution to the SmartJobBoard employment platform making it one of the most reliable and powerful job board software providers available on the market. It is possible to check it on practice by contacting SmartJobBoard directly through the Company's official website: http://www.smartjobboard.com
About SmartJobBoard:
SmartJobBoard is an advanced software platform for creation of professional job board web sites. It includes everything needed for running, customizing and extending of online recruitment service. Whether a job board is niche or general, employer or job seeker oriented, paid or free SmartJobBoard allows implementing any ideas easily.