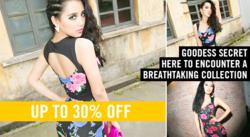 The dress is an essential component to create your own personalized style in summer.
New York, NY (PRWEB) April 29, 2013
Dresses are always the must-haves for all the girls who are pursuing the fashion and showing their beauty in spring and summer. With OASAP being well aware of the needs of the fashion girls in this season, OASAP editors drew inspiration from the Fashion Week Spring/Summer 2013 in early of last year, and launched "Goddess Secret" theme dresses last week.
The "Goddess Secret" theme dresses present a discount of up to 30% on all the collection. Products involved in the collection include: mini dresses, long dresses,chiffon dresses, maxi dresses, strapless dresses, lace dress, and even some wedding dresses, etc.
"Each dress has a variety of different matching methods. A-line dress highlights your good figure, long dress stands out your elegance and lace dress will show off your sweet temperament, anyway, the dress is an essential component to create your own personalized style in summer." OASAP Brand Director, Mrs. Yuki, concluded.
Oasap.com's 2013 new-style "Goddess secret" dresses are high-end, well crafted, simple yet fashionable. They've received many good reviews since they have launched. The dresses involved in this collection are traditional strapless dresses, printed dresses, vintage dresses, sleeveless dresses, one-shouldered dresses, and also the trending long-sleeved white dresses. Besides the slim-cut dresses that bring out your great figure, there are also high-waist dresses and draped dresses that embellish your figure. In addition, these must-have trending fabrics such as silk and lace also make the dress choices more flexible. The "Goddess secret" dresses of this collection have received a lot of good feedbacks ever since they were released on Oasap.com. A large discount of 30% is available on the series and will help you to make more dreams come true.
Along with the dresses discount, Oasap.com is also calling on fashionista's from worldwide fashion blogs and publishers. Oasap.com will provide more than 1000 pieces monthly as prizes of giveaways on fashion blogs, and these pieces will include women's dresses,hot shorts, miniskirts, printed t-shirts, fashion shoes, trending bags and beautiful jewelries.
ABOUT US
OASAP IS: A High-street Fashion Online store
OASAP Likes to: Deliver fashion & love!
OASAP is a global online store dedicated to high-street fashion by offering various kinds of women's apparel, bags, shoes, jewellery, accessories, beauty products, etc.
OASAP was founded in late 2011, and has already grown to the leader of high fashion online stores. We keep updating products at a high rate every day. Now we update more than 600 new products each week. Those products mentioned definitely belong to the latest fashion trend.
OASAP's mission is to make you close to the planet's most cutting-edge fashion, no matter where you are or what class or age group you are in. Pursuing fashion is the right of every woman.