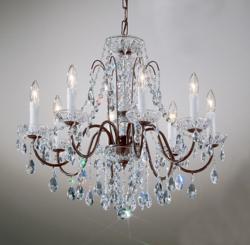 Miami, FL (PRWEB) April 25, 2013
GoldenageUSA announced on Thursday April 18, 2013, that their catalog for dining room chandeliers has grown to over 5K unique chandeliers. This means that they are one of the largest online retailers of chandeliers in the business, and their customers have the greatest variety to choose from.
Company spokesperson Nafi Sinmaz said, "The large variety of chandeliers we offer allows our customers to have their pick of the litter. The chandeliers in our catalog are all products of well known brands, and are available from a single platform. Our customers can compare between different brands, can see the difference in prices and quality, and can make an educated choice about what to buy."
Chandeliers for dining room are usually selected on the basis of the height of the ceiling, and the size of the dining table. The chandeliers offered by GoldenageUSA are of a variety of sizes and designs, and the company encourages buyers to have a size in mind before they start browsing through the listings. The website also offers an option to sort chandeliers by size range, so that the user does not have to go through all sizes and can narrow down the search for the perfect chandelier significantly.
The consistent growth in GoldenageUSA's catalog bodes well of the company and its customers. The company is also in the process of moving their showroom to a better location, and aims to become the market leader when it comes to retailing home décor and lighting products.
About the Company
GoldenageUSA.com is an online retailer and supplier of premium quality chandeliers and home décor including mirrors, rugs, ceiling fans, lamps, wall lighting, outdoor lighting, and ceiling lighting. The company offers a wide variety of products and is one of the largest ecommerce businesses in the home décor arena. The company offers products from 65 brands, and is always adding more brands and more products to their catalog. The company's showroom in Miami Florida is currently being relocated, but the website is open for business.