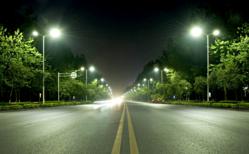 Seoul, South Korea (PRWEB) April 23, 2013
Seoul Semiconductor(SSC), a global LED manufacturer (http://www.seoulsemicon.com), has announced the completion of Acrich LED streetlight covering a section of 30km on Yang-zi River Road in Yangzhou city.
The main reason why Acrich LED is chosen for this LED streetlight project out of other global companies is that it has its advantages in cost and performance. Minimizing payback period of three years can be achieved by having lower cost of installation and maintenance. Acrich streetlight is also brighter and lighter than conventional DC LED streetlight.
Acrich 2 module is composed of MJT 4040 packages which use Multi Junction Technology and Acrich IC. Acrich IC can replace AC/DC converter which weight close to 4kg and also essential for conventional DC LED module. As a result, Acrich 2 module enables lighting manufacturers to save time and cost in designing the luminaries as well as raising power factor up to .99 and accomplishing 100lm/W in luminous efficiency.
From durability standpoint, not only this product will allow lifespan of up to 50,000 hours by not having converters which are responsible for curtailment of life and malfunction. It will also utilize existing streetlight pole as it only needs to change the light source and keeps other parts due to its lightness.
Jae-bin Choi, the head of lighting division of Seoul Semiconductor stated that "Acrich LED, which has mostly been used for the indoor lighting, gains traction in the outdoor market as a lighting source of the streetlights. Having China's recognition of Acrich LED on long life span as well as high output and efficiency, other cities are ,in turn, looking into Acrich LED streetlights tunnel illumination on their street". He also stressed that "the company will lead global outdoor lighting market with Acrich 2 which is considered next generation of LED module and optimized for outdoor lighting".
Seoul Semiconductor – About Us
Seoul Semiconductor (SeoulSemicon.com) manufactures and packages a wide selection of light emitting diodes (LEDs) for the automotive, general illumination/lighting, appliance, signage and back lighting markets. The company is the world's fifth largest LED supplier, holding more than 10,000 patents globally, while offering a wide range of LED technology and production capacity in areas such as "nPola", deep UV LEDs, "Acrich," the world's first commercially produced AC LED, and "Acrich MJT - Multi-Junction Technology," a proprietary family of high-voltage LEDs. The company's broad product portfolio includes a wide array of package and device choices such as AC driven LEDs, high-brightness LEDs, mid-power LEDs, side-view LEDs, through-hole type LED lamps, custom displays, and sensors. The company is vertically integrated from epitaxial growth and chip manufacture in its fully owned subsidiary, Seoul Optodevice, through packaged LEDs and LED modules in three Seoul Semiconductor manufacturing facilities. Seoul Optodevice also manufactures a wide range of unique deep-UV wavelength devices. The packaged LEDs and LED modules are available in North America through Avnet Electronics, Digi-Key Corporation and Mouser Electronics.
# Contacts
Seoul Semiconductor Public Relations
Wankee Park : +82 10 6355 8239