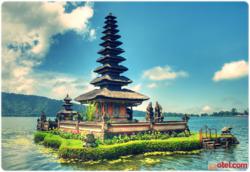 We are in the middle of the spring, the beginning of the popular events; and hotels are trying their bests to attract more visitors with uniquely great rates'
(PRWEB) April 24, 2013
Bali is one of the most visited islands in the world. Being both an exotic and a historic destination, Bali is the favorite city on the wish lists of many tourists. For those who search for hotels in Bali, Otel.com offers the lowest prices along with a perfect stay.
Otel.com recently announced special offers and discounts for those interested in Bali hotels for their spring or summer holidays. Resorts in Bali offers an unforgettable experience to its guests. Having white sand beaches, infinite coastline and giant mountains, Bali boasts its natural beauties attracting millions of tourists around the world.
There are lots of religious and cultural festivals in Bali. One of the most popular of them is the Hindi New Year. It is held every March or April featuring parades, colorful giants and total silence. Also, summer is special for art lovers. The annual Arts Festival runs from June to July featuring various shows and exhibits. For those who want to attend these kinds of events, there are many options of accommodation on Otel.com. 'There is an increased demand on Bali villas and Bali hotels on the beach recently. So we have extended our range of products; now we offer many resorts in Bali including Bali villas and much more Bali hotels on the beach', says Otel.com CEO. 'This may be a great time to make a reservation in Bali hotels: We are in the middle of the spring, the beginning of the popular events; and hotels are trying their bests to attract more visitors with uniquely great rates', continues the CEO of Otel.com.
By booking their accommodation in one of the hotels in Bali, people can visit many popular attractions such as Uluwatu Temple, Tanah Lot, Besakih Temple, the Elephant Cave, Water Palace, Kehen Temple and Puri Lukisan Museum. "To enjoy these great landmarks, people are searching for central Bali hotels. The two of the best hotels in Bali with our great discounts', says Otel.com CEO, 'are Ramada Resort Camakila Hotel and [ Bali Dynasty Resort Hotel. These are the most favored hotels in Bali. We are more than pleased to offer them at affordable fees'.
For example Ramada Resort Camakila can be seen as one of the Bali hotels on the beach with its close location to Legian Beach. The hotel offers two pools; a lagoon and a beachfront infinity pool to its guests. With big discounts on this hotel, for those interested in Bali hotels on the beach can make their reservation directly on Otel's website.
About Otel.com
Otel.com is one of the tourism based websites of Met Global, which has offices all across the world, including Europe, Asia and America. Otel.com is available in more than twenty languages and many currencies. People can go through thousands of hotels all over the world with just few clicks, along with customer reviews, testimonials and photo galleries. Those who are curious about the latest discounts and offers on hotels can access the official website of the company here: http://www.otel.com/.