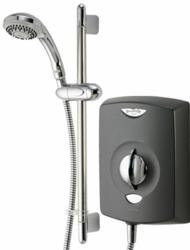 "We have found eBay to be a very successful selling channel for us... we have some loyal customers who prefer the eBay shopping experience"
Katerina Vankova, Web Marketing Manager
(PRWEB UK) 22 April 2013
Nine additional parts have been added to the online shop, including thermostatic cartridges for previous mixer shower models, such as the GS200 and GS300, as well as temperature levers and wall outlets. The company opened its eBay shop in November 2012 and has seen sales increase by an average 54% in 2013 compared to 2012.
Gainsborough's web marketing manager Katerina Vankova commented:
"We have found eBay to be a very successful selling channel for us. While many of our customers are happy to purchase spare parts directly on our website through our Parts Store, we have some loyal customers who prefer the eBay shopping experience. They have built up feedback scores, and buying additional items through our eBay shop helps them to improve their scores, as well as give them the convenience of paying through PayPal."
The company now sells thirty-three spare parts on its eBay shop, ranging from shower heads and hoses, to shower cartridges and replacement engines. In addition, most of the company's electric, mixer and digital showers are now available to buy through the popular auction website, including the best-selling 8.5 se electric shower, which is priced at just £61.99, and the new gse range of graphite electric showers, which start at £122. All showers and parts sold through eBay include free UK delivery as standard. The company has a dedicated customer service department specialising in eBay messages, so all queries from customers on the site are replied to in a prompt and courteous manner.
Gainsborough prides itself on quality products, and frequently receives feedback from customers who have had the same shower for over 20 years, maintaining them with occasional spare part replacements. The company sells spare parts for a wide range of obsolete shower models as well as its current range to enable customers to keep their showers operating and looking as good as new for as long as possible.
About Gainsborough Showers
Gainsborough Showers is a well-respected UK shower manufacturer, having been established for over forty years. The company supplies electric, mixer and digital showers to the UK domestic market and currently has 22 different models available to buy on their website, all with free next working day delivery. As well as new showers, the company also supplies a range of spare parts for over 35 Gainsborough shower models. Gainsborough's mission is to make buying a shower online quick, easy and straightforward.