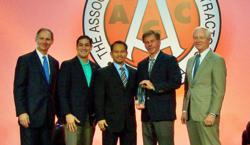 We are 100 percent committed to making sure everyone on and around our job sites is safe, first and foremost.
Providence, RI (PRWEB) April 22, 2013
In recognition of the firm's industry-leading safety record, the Associated General Contractors of America (AGC) has named Gilbane Building Company a national winner in the organization's 14th Annual Construction Safety Excellence Awards (CSEA) program. The CSEA program, sponsored by Willis, is the industry's elite safety excellence awards program, recognizing companies that have developed and implemented premier safety and loss prevention programs and achieved continuous improvements and maintenance of their safety and health management systems.
"Safety is a fundamental value to us," says Tony O'Dea, Gilbane's corporate director of safety. "Every one of the 13,000 men and women – employees, contractor partners, vendors and our clients – who work on Gilbane projects everyday are members of our extended family. We are honored to receive this recognition by our peers in the AGC for our successful safety program."
Gilbane's win was based on three years of safety performance as well as stellar safety records from three signature projects: Genzyme Biologics Support Center, Maricopa County Court Tower, and the Einstein New Regional Medical Center. Gilbane was also recognized for its comprehensive safety program elements, compelling examples of employee involvement, management commitment to safety and innovative programs implemented.
"There is really nothing in our business more important than safety," notes Bill Gilbane, Jr., president and chief operating officer. "We are 100 percent committed to making sure everyone on and around our job sites is safe, first and foremost. Awards like this one shine a light on our relentless pursuit of an incident- and injury-free industry."
About Gilbane, Inc.
Gilbane provides a full slate of construction and facilities-related services – from pre-construction planning and integrated consulting capabilities to comprehensive construction management, close-out and facility management services – for clients across various markets. Marking its 140th year in operation and still a privately held, family-run company, Gilbane has more than 60 office locations around the world. To find out what the next 140 years have in store, visit http://www.gilbaneco.com.