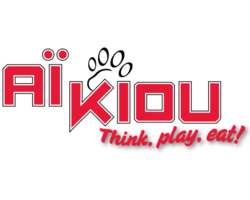 Everyone needs to get involved to help those in need...
Terrebonne, Canada (PRWEB) April 23, 2013
Pets enrich our love and it's important to enrich their's as well. Aikiou (pronounced: [I-Q]) is pleased to announce a new referral and marketing program designed to help pet shelters across North America.
This program replaces our original program initiated in 2009 when company founder Kathleen Desrosiers launched AiKiou. Since that time Aikiou has donated over 15 000 interactive feeders to help shelters entertain their animals. These interactive feeders replace traditional dog and cat bowls, and offer the animal a healthy, positive activity during mealtime.
By updating this program, Aikiou hopes to help even more shelter dogs and cats who spend their lives in cages waiting for potential adoption.
"Since this product was made by my wife to entertain our rescued Golden Retriever, Sumo, it was only natural to give back," said Alexandre Tremblay, president of the company.
Under the new program, shelters will be able to finance part of their operations using a new referral program that gives shelters a 10% commission when people purchase an Aikiou product on the dedicated affiliate website, iqbowl.com. The program also lets people donate products directly to their local shelter.
According to ASPCA, there are about 5,000 shelters in North America with five to seven million animals entering each year and three to four million euthanized per year. Aikioiu's goal is to help as many animals as they can through this affiliate program.
To enroll, shelters can contact Aikiou directly, or go to the company website for more information or to enrol your local shelter.
About AïKiou:
AïKiou was created to fullfill the need on the market for a product to enrich pets lives. Started in 2008, it now has distributors in several countries around the world like Zeus and Company who joined the company in its efforts in 2013 and Intersand who now represent them on the International market.
Zeus & Company was founded in 1997 by David Levy, who had discovered several all natural and healthy pet food products that his dog, Zeus, enjoyed and loved. It was this discovery that impelled Levy to bring more all natural and healthy pet food products to the Chicago and surrounding areas -thus improving the nutrition and health of pets.