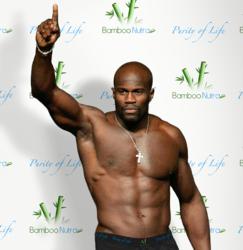 (PRWEB) April 25, 2013
Health supplement and lifestyle conglomerate Bamboo Nutra LLC selects its primary Mixed Martial Arts (MMA) fighter, Cheick Kongo - currently fighting in the UFC, to endorse the company's soon to be released By-Nature product line.
Bamboo Nutra believes the arduous approach to training, fighting and recovery involved with the sport, makes MMA fighters the perfect candidates to benefit from the company's By-Nature product line. Star heavyweight fighter Cheick Kongo said of the recent agreement, "After looking into the fundamentals of the company and the science behind the products, I'm anxious to get my hands on (By-Nature products) and start implementing them in my daily routine. My lifestyle and profession require me to have a sharp body and mind 24 hours a day, 7 days a week…."
Bamboo Nutra views high quality nutraceutical products as a key factor in athletic performance and recovery, which ultimately leads to a vital collaboration between athletes and nutraceutical providers. Bamboo Nutra feels that support within the athletic arena is crucial in facilitating the global expansion of the company and is a key focus of their growth strategy.
The Cheik Kongo endorsement agreement, along with several additional endorsement deals in the works, is aimed at establishing the company as a household name within an early stage of corporate development. The company believes this strategy will drastically improve market penetration of their By-Nature product line, as they feel the tremendous consumer following behind professional athletes and celebrities cannot be matched by any other marketing medium.
The consumer trend towards emulating Celebrities and Athletes also translates into significant opportunities for Bamboo Nutra to give back to the community. All public figures endorsing Bamboo Nutra will be making regular appearances within local communities, schools and events to promote both nutrition and exercise as part of a healthy and balanced lifestyle through its program 'Project Kids'.
Bamboo Nutra believes endorsements within key high profile industries, such as Professional Football, Hockey, Combat Sports, Golf, Tennis, Soccer, etc., will build on the company's solid foundation of creating quality nutraceutical products and lifestyle options, and will help carve out the company's position among the industry's elite.
About Bamboo Nutra LLC
Bamboo Nutra is global Health Supplement and Lifestyle Company, focused on promoting the positive benefits associated with natural bamboo silica and healthy lifestyle options. The company is established around the philosophy that "nature is life", and was built on the principle that ingredients created from nature are the foundation of improved mental and physical wellbeing.