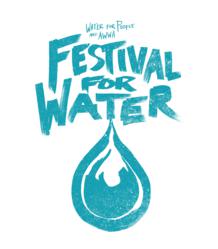 Denver, CO (PRWEB) April 22, 2013
Water For People today announced the Festival For Water, a free concert in Denver, CO on June 9, 2013 at Civic Center Park. Colorado native ensemble The Motet will headline the Festival with performances by Bonerama and Broken Tongues.
Presented by Water For People, a Denver based nonprofit working to solve the global water and sanitation crises, in collaboration with Coors Light and the American Water Works Association (AWWA), the Festival For Water will provide people the opportunity to enjoy great music and unite global minded citizens for an afternoon of entertainment and activities.
"Over 1 billion people worldwide are without access to safe water and an estimated 4.1 billion are without adequate sanitation," said Ned Breslin CEO of Water For People. "The crisis is huge and demands bold action to achieve real solutions. We're excited to host the Festival For Water here in Denver because we know that together we can make disruptive change."
On June 9th, Coloradans, music enthusiasts, water professionals, and globally minded individuals will rally for a night of live music and engaging activities to learn about the water crisis and how they can take action. "We're honored to be lending our music to such a great event in Denver," said Dave Watts, The Motet band leader. "As a Colorado band, The Motet understands the importance of access to clean water. We are extremely excited to be a part of this free event which promises to raise funds and awareness for this global crisis."
Denver is a global hub for water organizations ranging from local utility companies to international nonprofit organizations. Coinciding with AWWA's Annual Conference and Exposition (ACE13), as many as 12,000 people will travel to Denver to attend the conference and celebrate the innovative efforts to solve the water and sanitation crisis in the U.S. and abroad.
Denver food trucks including Street Eats, Vegan Van, Manna From Heaven, The Bistro Bus, Biker Jim's Gourmet Dogs, and Stuebens will also join the Festival, each donating 10 percent of all sales from the night to Water For People and their work across Africa, Asia, and Latin America.
Additional sponsors for the Festival For Water include: CH2M Hill, CDM Smith, and Arcadis with support from Neptune Technologies, Infilco Degremont, Brown and Caldwell, MWH, and NAWC.
Event partners include: The American Water Works Association (AWWA), Denver Water, Metro State One World One Water Program, Colorado Foundation For Water Education, Eco Vessel, Live Worldly, Whole Foods, Yelp, Visit Denver, Downtown Denver Partnership, Imbibe Denver, Parsons Brinkerhoff, History Colorado Center, and Red Rocks Community College - Water Utility Program.
The Festival For Water will be held from 4:00PM – 9:00PM MT at the Civic Center Park in Denver, CO. To learn more and to register, visit http://www.festivalforwater.org and to begin taking action, join Water For People on Facebook and Twitter.
###
ABOUT WATER FOR PEOPLE
Water For People is an international nonprofit organization dedicated to providing access to improved water and sanitation systems and services in developing countries. By working with local governments, the private sector, and partners, Water For People ensures that Everyone in a specific region has these basic needs met Forever. This innovative approach reaches every family, every school, and every clinic, catalyzing transformative change for better health and economic development to occur. Learn more at http://www.waterforpeople.org. Join us on Facebook and Twitter