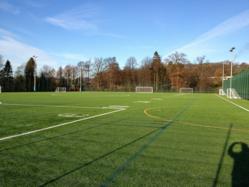 (PRWEB UK) 25 April 2013
Leading British manufacturer and accredited artificial grass provider TigerTurf has collaborated with premier partner McArdle Sport-Tec Ltd, to replace the University of Stirling sports pitch with their specialist product, Total Turf 65XQ.
The project was initiated in June 2012, the University was looking for specific performance characteristics to foster a technologically superior pitch which would maximise and enhance each player's ability. TigerTurf has built up a strong reputation in the sports industry; and their ethos "Passion for Performance" is delivered in each of their innovative engineered solutions.
TigerTurf's nature and commitment to extensive testing together with strong research and development ensures each product meets specific sporting requirements. With the use of multi-purpose surfaces rapidly increasing, ensuring extensive long life is a necessity; TigerTurf provides a guarantee for 20,000 playing hours for Total Turf 65XQ.
Ian Graham, Sports Facilities Manager at the University of Stirling is impressed with the completed project by McArdle Sport-Tec Ltd and looks forward to testing the new pitches over the coming months, he comments: "The surface has been really well received by Rugby, American Football and Football players alike; it is already very well used and enables the University to provide students with a high performance, consistent and safe surface".
Total Turf 65XQ is currently the UK's leading multi 3G surface; and has XQ Technology, a breakthrough in polymer processing. This provides unrivalled split resistance with the appearance of a lusher, more natural-looking pitch that withstands high frequency use. The product benefits include; improved performance, durability and visual characteristics, reduced infill splashing for improved player comfort and shape retention. Total Turf 65XQ, successfully meets the FIFA 1 star, FIFA 2 Star, IRB Reg 22 and GAA standards in conjunction with the advised shock pads.
For more information, visit http://www.mcardlesport.co.uk/