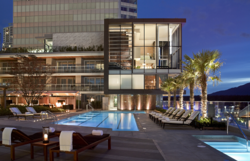 Rated the best in Vancouver on the Condé Nast Traveler Gold List
Vancouver, BC (PRWEB) April 23, 2013
Fairmont Pacific Rim hotel in Vancouver offers exclusive summer packages perfect for that Canadian getaway and for those looking to soak up the 'Vancouver vibe'. Rated the best in the city on the Condé Nast Traveler Gold List, the hotel's varied packages will entice the foodie, the art-lover, the cruise connoisseur or the spa-goer.
Food Truck Feast
Vancouver has become renowned for the abundance of 'meals on wheels' with a vastly growing Vancouver food cart population featuring over 100 carts found around the city. Food cart cuisine ranges from BBQ, fish tacos, dim sum, to home style grilled cheese – there's a truck to tickle every taste-bud. Together with Vancouver Foodie Tours, the hotel has created a package that includes luxurious accommodation, welcome amenity, daily breakfast, a World's Best Street Eats Tour for two with local Vancouver Foodie Tours, and food cart city map to note all the favourites. This special Vancouver hotel package starts at $549.00 per night CAD, based on double occupancy.
Copa-Cabana
Perfect for those wanting to be whisked away into the tropical breeze or looking for that quick escape - a rejuvenating Vancouver retreat awaits with the Copa-Cabana package. The luxury hotel features a resort-style rooftop pool complete with palm trees, cabanas and bar – guests will never know they are in the heart of downtown! The Vancouver hotel package features overnight accommodation with a luxurious outdoor patio and fireplace, welcome cheese & charcuterie plate with wine pairings from giovane winebar, full breakfast for two and half-day cabana rental, including summer sippers for two, fresh fruit, pizza, ice water, and towels for those hot summer days! The package starts at $729.00 CAD, per night, based on double occupancy.
Designed to Perfection
Fairmont Pacific Rim was designed with a pure and simple view that connects itself with the surrounding area, capturing the true outdoor lifestyle. Designed by James Cheng, the architect that helped create the term "Vancourism", he combined the best of Asia and the West Coast in the hotel's plan and décor. Fairmont Pacific Rim plays homage to a large abundance of art throughout the hotel including the exterior, public spaces and guestrooms. The hotel has created a package that allows guests to experience all of this with the Designed to Perfection package that includes luxurious overnight accommodation, a signature welcome amenity with the hotel's own hardcover book, self guided art & design tour of the hotel, VIP passes to the Vancouver Art Gallery to experience the 'Grand Hotel: Redesigning Modern Life exhibition', Guided Architecture tour with the Architecture Institute of BC, and a picnic lunch from Giovane café. Packages start from $549.00 CAD per night, based on double occupancy and are available from June-September.
Sail Away!
Whether it's for pre or post stays in Vancouver, cruise ship passengers can sail into a deal with a cruise package that includes a full breakfast, return luggage transfers to Canada Place Pier, a welcome amenity, and a luxurious guestroom. Packages prices from $319.00 CAD per room, based on double occupancy.
Destination Rejuvenation – a resort spa within the city
Vancouver's destination spa, Willow Stream Spa offers sweeping landscape views of the Pacific Ocean and mountains, and a true resort spa experience within the city. Beginning with the signature Willow Stream Spa Ritual, guests are pampered before their treatment with the detoxifying hydrotherapy experience. This self-guided tour aids tired and achy muscles through a series of hot and cold treatments including steam room, infrared saunas, mineral rain spa shower and relaxing spa lounges. The Beauty Sleep Spa Package is ideal for that busy mom, girls getaway or a relaxing interlude for two! Starting from $499.00 CAD, this package includes one night accommodation, welcome amenity, two 60-minute spa treatments, full access to Willow Stream Spa, therapeutic mineral bath salts with evening turn-down and breakfast in bed.
Reservations can be made by going online fairmont.com/pacific-rim-vancouver/ or calling toll-free to 1-800-441-1414.
ABOUT FAIRMONT HOTELS & RESORTS
Fairmont Hotels & Resorts is a celebrated collection of more than 65 luxury properties around the globe, including Shanghai's Fairmont Peace Hotel, The Plaza in New York, and Makkah Clock Royal Tower in the Kingdom of Saudi Arabia. The luxury brand's distinctive hotels offer a sense of heritage and sophistication, warm, engaging service and culturally rich experiences. Fairmont balances the company's economic, environmental and social priorities and provides the framework for responsible hotel operations through the Sustainability Partnership program. Fairmont is owned by FRHI Holdings Limited, a leading global hotel company with over 100 hotels under the Fairmont, Raffles, and Swissôtel brands. The company also manages Fairmont, Raffles and Swissôtel branded luxury private residences club, whole-ownership residences and serviced residences properties. For more information or reservations, please call 1-800-441-1414 or visit fairmont.com.