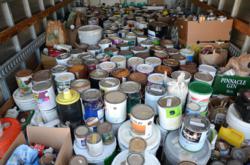 We collected approximately 3.5 tons of household waste.
Austin, TX (PRWEB) April 22, 2013
In celebration of Earth Day, the Austin-based makers of Aquasana water filtration products collected 3.5 tons of household hazardous waste from local residents at the Aquasana Project Green Garage event this past Saturday, April 20 at the Four Hands Furniture Outlet in West Anderson Lane. The items were then delivered to the Household Hazardous Waste Facility in South Austin for proper disposal.
"The turn out was great and people were really thankful to unload their used paint and batteries that were cluttering their storage spaces," said Aquasana CEO Todd Bartee. "We were more than happy to help properly dispose of them."
Aquasana created Project Green Garage as another way to ensure that everyone in Austin can enjoy great-tasting, healthy water. When household hazardous waste is thrown in residential trash and ends up in landfills, it can seep into the water supply and negatively affect Austin's drinking water.
Residents unable to attend the event can deliver their household hazardous waste to the City of Austin Household Hazardous Waste Facility, which is open year-round to City of Austin and Travis County residents. In addition to batteries, oil, paint and anti-freeze, the facility accepts other items, including cleaning products, fertilizers and other household chemicals. For a list of accepted items, hours of operation and location, visit http://austintexas.gov/hhw.
About Aquasana
Aquasana is a leading water filtration company with the sole focus of providing best-in-class water filtration products so everyone can enjoy great-tasting, healthy water. Based in Austin, Texas, the company markets drinking water filters, shower filters and whole house filters that remove over 60 harmful contaminants from water including chlorine, chloramines, herbicides, pesticides, industrial solvents, lead, and mercury. Aquasana water filters are engineered to preserve the healthy minerals in water, which include calcium, magnesium and potassium resulting in healthy, great-tasting water.