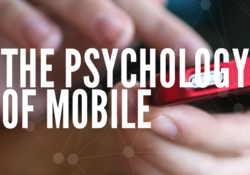 Dr. Ramsey was able to uncover the primal instincts that drive mobile decision making...
Columbia, MD (PRWEB) April 24, 2013
As the connected world transitions to smaller screens and wider reach, we are seeing users begin to take on very unique mentalities towards the devices they use. Mobile is no longer simply about connecting on the go, it is about being connected everywhere, all the time and as such our psychological view of smartphones, tablets, and the like has transcended that of web-based technology of the past.
FiddleFly- a digital creative agency with a mobile-first mentality - in an attempt to get to the roots of the impulses behind the decisions mobile users make, contracted the help of clinical psychologist Dr. Gerald Ramsey, and together launched a study of mobile psychology at a molecular level. What followed was a study that revealed some truly eye-opening revelations about how and why people think the way they do about mobile content, mobile interactions, and mobile security.
Together with Dr. Ramsey, the FiddleFly team put together a White Paper titled "Going Home to Mobile" that explores the notion of mobile as a unique entity that we regard akin to a second home. Using these findings, the FiddleFly team has been able to create a new mission in the mobile space that drives users in linear paths toward specific outcomes. Dr. Ramsey was able to uncover the primal instincts that drive mobile decision making such as the fears of separation and annihilation, the defensive nature we take on when our home is being intruded upon (by mobile ads) and the desire we have to feel safe and in control of our home.
Using these findings, FiddleFly has taken to the field helping businesses begin to build outcome-driven campaigns and the results have been nothing short of amazing. By creating linear paths, avoiding intrusion, and allowing users to take control of targeted experiences FiddleFly has helped businesses create campaigns that have seen conversion rates upwards of 85%.
To download the whitepaper and enter your information to receive updates about future studies by FiddleFly, visit fiddlefly.com/whitepapers and to get in touch with the FiddleFly team directly, you can visit https://fiddlefly.com/partner, call 855-258-5037, or simply email info(at)fiddlefly(dot)com.