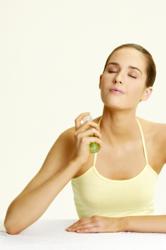 Miami, FL (PRWEB) April 23, 2013
A recent article by LivingGreenMag.com gives insight on the causes of inflammation internally and externally, and offers advice on how to reduce the factors causing the health issue through food. Probiotic Action shares the new insight with those suffering from the skin condition in hopes that some of the foods listed will aid in the reduction of swelling and inflammation associated with acne.
The article explains several types of inflammation, whether self induced, or from external factors, yet one description seems to best explain the type of inflammation associated with acne as well as the bacteria and pollutants that cause it:
"When there is imbalance in the body (such as poor diet, self-hate, stress, lack of sleep, etc.), the normal inflammatory response transforms into chronic inflammation. Chronic inflammation is a series of biochemical events that occur which reproduce and intensify the inflammatory response. This leads to a progressive shift in the type of cells present at the injured site and causes the inflammation to be prolonged. Basically, chronic inflammation is characterized by simultaneous destruction and healing of the tissue."
In response to the above statement, Fernando Perez of Probiotic Action explains why using an acne treatment that is meant to reduce inflammation and spread of bacteria, along with a different diet, may be the best acne treatment:
"As the article states, inflammation is caused by a mix of external factors, and how the body reacts to them. For those suffering with acne, the presence of P.acnes bacteria along with dirt and oil are the most common culprits creating the skin issue. To battle the causes of acne and inflammation, using an acne treatment that balances the skin's chemical levels, and ingesting the right foods for internal balance, could show significant results."
As for the foods to supplement an acne treatment by Probiotic Action, "Omega-3 fatty acids tend to decrease inflammation while omega-6 fats and trans-fats increase inflammation. While many foods in the standard American diet (unrefined white flour, sugar, red meat, dairy, fast food, and food additives) increase inflammation, a healthy diet made up of fish, nuts, seeds, oils and fruits and vegetables can help lessen or prevent inflammation. Likewise, certain spices such as turmeric, cloves and ginger have proven anti-inflammatory capabilities," states living Green.
Probiotic Action is an advanced acne treatment that uses Probiotics for acne containing the "good bacteria" that is naturally found on healthy human skin. By using probiotics, Probiotic Action is an effective treatment that restores the normal bacteria content on skin. Probiotic Action will successfully clear skin when used as an adult acne treatment while protecting skin against bad bacteria, free radicals, and pollutants*.
*These statements have not been evaluated by the Food and Drug Administration. Probiotic Action is not intended to diagnose, treat, cure or prevent any disease.