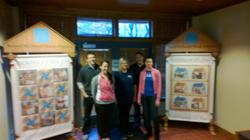 I feel a strong pride in FFG for supporting organizations as important as the Ronald McDonald House.
Indianapolis, Indiana (PRWEB) April 23, 2013
Foundation Financial Group employees from the company's Indianapolis Branch Offices, located at 7035 East 96th Street, Unit S and 1273 North Emerson Avenue, Suite G, supported the local Ronald McDonald House during a volunteer event. Foundation Financial also made a significant financial contribution to the organization.
The Ronald McDonald House program provides a "home-away-from-home" so families can stay close by their hospitalized child at little or no cost. Families are stronger when they are together, which helps in the healing process. By staying at a Ronald McDonald House, parents also can better communicate with their child's medical team and keep up with complicated treatment. They can also focus on the health of their child, instead of grocery shopping, cleaning or cooking meals.
Foundation Financial Group's Indianapolis employees teamed up to serve breakfast to current guest families of the Ronald McDonald House. FFG provided all materials and food items for the breakfast and also stocked the house's pantry.
"Having worked with the Ronald McDonald House before, I was really excited to be a part of this event," said Foundation Financial Group Event Coordinator Megan Catlin. "We were able to support families who are facing difficult times during their loved one's illness by preparing and serving a meal to them. I feel a strong pride in FFG for supporting organizations as important as the Ronald McDonald House. Foundation Financial encourages and allows all of us employees to support the causes closest to our hearts."
Originally opening in 2002 at the Randallia campus, the current Indianapolis Ronald McDonald House is a 9,000 square foot "house" located on the main floor of the hospital. This local Ronald McDonald House offers families comfortable spaces to relax, a large kitchen and dining room, as well as a computer area and a laundry room. The Ronald McDonald House welcomes the families of ill and injured patients, 21 years and younger, as overnight guests or day guests. Currently, there are 312 Ronald McDonald Houses around the world.
For more information about the Ronald McDonald House, visit rmhc.com.
About Foundation Financial Group
Foundation Financial Group is a multibillion dollar financial services corporation. FFG offers its customers Best in Class service through its Insurance, Retirement, and Mortgage Services. Named one of the fastest growing financial companies in the country by INC magazine, FFG has continued to grow its nationwide presence with over 100,000 new customers per year in 39 states. In addition to the value that Foundation Financial provides every customer, it is also dedicated to its communities and the people who live in them. Through a vast array of philanthropic endeavors, the company not only provides significant monetary donations but also fosters a workforce environment that encourages all team members to personally make a difference. Foundation Financial is committed to its strong focus on customer service and community investment as it continues to grow and compete with the largest financial institutions in the world.
Foundation Financial Group reviews all public relations inquiries. For additional information, interview and image requests, contact the Foundation Financial Group Public Relations team.