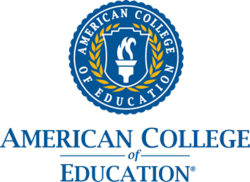 We are proud to extend educational opportunity to students across the globe.
Indianapolis, IN (PRWEB) April 23, 2013
American College of Education, an accredited online college that provides online graduate programs to students across the United States, announces its new website designed to help prospective students make an informed choice.
"In addition to students from across the United States, students from 24 countries have chosen American College of Education for their master's degree, and we believe that interaction between such a broad base of students leads to the kind of dialogue we need to solve problems in education. We are proud to extend educational opportunity to students across the globe," said American College of Education President Sandra Doran.
The website includes a range of student-friendly features including a regional program map that communicates program availability and state licensure contact information, as well as degree plans for all programs. The tuition section includes a transparent and easy-to-understand breakdown of program costs by including tuition by credit hour, total tuition and applicable fees. Tuition information includes full fees and is accessible from all academic program pages. Prospective students can print a list of questions about graduate study at Is ACE Right for You? and download an admissions kit with essential information on M.Ed. programs from the home page.
Both current and prospective students also can also do the following:

Read biographies about the school's national faculty, many of whom are serving currently in K-12 school districts.
Learn about new online program offerings.
Access upcoming events, news and social media feeds from the main page.
Find answers to questions immediately from FAQ, Chat Tool and Request Info buttons.
To see American College of Education's new look, please visit http://www.ace.edu.