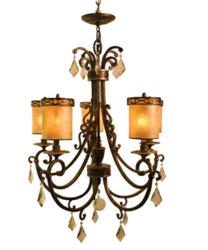 BOCA RATON, Fla (PRWEB) April 23, 2013
Lights Lights Baby! Rapper and DIY Network host Vanilla Ice has further expanded his lighting line to include eight new pieces, bringing the collection to a total of 14 exclusive chandeliers, sconces and wall mounts.
Vanilla Ice is continuing his exclusive relationship with Capitol Lighting, the award-winning 88-year old lighting company, by working with the lighting experts to bring more traditional pieces to the line that can fit the decor in homes throughout the world.
The Bliss Collection includes eight pieces ranging from single tier chandeliers, ceiling pendants, bathroom lighting and wall scones all in with a traditional style. The pieces are assembled in the U.S. under the company Batalion Imports and are available for purchase at all eight Capitol Lighting showroom locations in New Jersey and South Florida, as well as online at VanillaIceLighting.com.
"Working with the Capitol Lighting team to create the fixtures and launch the collection was so exciting and really let me explore my passion for design," said Rob Van Winkle, aka Vanilla Ice. "It was a natural fit to create a second collection for the lighting line with a similar but different style. We want to create a line of fixtures with something for everyone's home."
Vanilla Ice and Capitol Lighting have worked together on partnerships including the Making Lives Brighter campaign where the rapper/designer was the spokesperson and filmed a PSA to bring awareness to Habitat for Humanity. The original lighting line launched in October 2012.
"We are thrilled with the additions to the Vanilla Ice Lighting Line and look forward to collaborating on additional pieces later this year," said Eric Lebersfeld, president of Capitol Lighting.
Vanilla Ice exploded on the rap/pop music scene in the 90s, selling 10 million albums in just four months and hitting number one on the Billboard charts with the number one single "Ice Ice Baby." With more than 15 years of home improvement experience as a general contractor, his current TV show, The Vanilla Ice Project on the DIY Network won a Factual Award for Best Home TV Show.
About Capitol Lighting and 1-800Lighting.com
For more than 88 years, the lighting experts at the award-winning Capitol Lighting have helped customers find the perfect lighting fixture from the largest selection. Capitol Lighting showrooms and their website 1-800LIGHTING.com satisfy all lighting needs, from contemporary sconces and modern chandeliers to table lamps, outdoor and energy-efficient lighting – all at guaranteed low prices. For more information, visit Capitol Lighting, like them on Facebook and follow them on Twitter. Check out the Vanilla Ice Lighting Line Bliss Collection on YouTube.com-http://www.1800lighting.com/Capitol-Lighting-Videos/featured-videos/Vanilla-Ice-Lighting-The-Bliss-Collection.