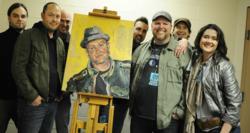 Certain people exemplify the Spirit of a place; of a land. I have chosen to portray the life of a land through the eyes of its most honorable people...I want to paint a portrait of Santa Fe through their eyes.
Santa Fe, NM (PRWEB) April 30, 2013
On August 9, 2013 artist Robbi Firestone's exhibition, The Spirit of Santa Fe, composed of her portraits of a brave range of Santa Feans—from a beloved judge to a homeless youth—will open at Casweck Galleries in downtown Santa Fe, New Mexico.
When does someone's new town become more of a hometown? Portrait artist Robbi Firestone, who recently relocated to Santa Fe, is consciously fostering that transformation through an ambitious art project at the heart and soul of her newly adopted city. And it stems from her love affair with New Mexico.
Firestone is an artist known for her sought-after portrait commissions, called Spirit Capture Portraits, that deftly reflect subjects' inner selves, and hopes and dreams, as well as the faces they show the world.
"I usually travel 200 days a year," Firestone says, "but since I moved here three months ago, I haven't wanted to leave. It's been a visceral reaction. I want to be here, on this land. I'm an artist, but I'm also analytical. I've been asking myself, 'What makes me drawn to it?'"
Firestone discovered Santa Fe 8 years ago, and planned her move ever since. She decided to explore the city's strong magnetic pull by painting the portraits of quintessential Santa Feans. These individuals were nominated by trusted advisors, because they exemplify the City Different, from beloved community members to media personalities and a homeless youth. The subjects, from varying socioeconomic levels and backgrounds, represent Santa Fe's rich diversity.
"With the spirit of Santa Fe project, I am intent on exploring why we are all so drawn to this land. So drawn to one another… I feel welcomed and at home. I feel I have found my tribe. I want to look at each and everyone of you, discovering my own version of the spirit of Santa Fe, through your eyes."
"I am asking each subject two questions," says Firestone. "What does spirit mean to you? And what is the spirit of Santa Fe?" These answers both satisfy her curiosity and inform her painting process, which includes the inscription of words, intuitive insights, and occasionally, the use of collage and embedded objects.
Firestone's desire to stay put is something many Santa Feans and visitors experience to various degrees. But Firestone is doing something unique in response. Her exhibition has already found its home in the Casweck Galleries space in downtown Santa Fe, and will debut during the height of Santa Fe's gallery season, in between Spanish Market and Indian Market. A filmed interview of the subjects on the same theme will accompany the gallery exhibition.
Casweck Gallery features the works of renowned artist Ernest Chiriacka (1913-2010), known for his exquisite historical Western and Native American paintings, as well as his iconic work in the genres of pin-up and pulp illustration.
As a devoted participant in the Burning Man community, Firestone's concept for this series is influenced by the community's bedrock "gift economy" philosophy that is grounded in creativity, generosity, and reciprocity. This mission to capture the spirit of Santa Fe—and amplify and share it in these portraits—will be a gift to the community as well as all who get an incomparable understanding of this high desert town's energy by viewing the vibrant likenesses of its most emblematic citizens. Taking it one step further, 3% of proceeds will be donated to the Santa Fe Community Foundation.
Robbi Firestone paints Spirit Capture oil Portraits, traveling worldwide to paint luminaries. Celebrity clients include Grammy Winner Bluesman Kebmo and lead singer Bart Millard of the best selling band, MercyMe. Firestone is world renowned for capturing physical likeness and inner beauty. Her mission is to empower and inspire women to live more creative, joy filled lives everyday. http://www.RobbiFirestone.com
3% of proceeds of this project will be donated to the Santa Fe Community Foundation.
CONTACT: Debrianna Mansini
TELEPHONE: 505.988.2966
CELL PHONE: 505.913.1435
EMAIL: info(at)casweckgalleries(dot)com