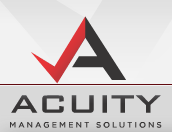 Richmond, VA (PRWEB) April 24, 2013
Acuity Management Solutions ("Acuity"), a leading provider of web-based management and e-billing tools for corporate legal and insurance claims departments, rolls out an enhanced electronic billing and auditing solution for clients managing massive numbers of invoices for Mass Tort litigation.
Mass Tort litigation involves thousands of similar claims that are frequently managed at a state or regional level. Reviewing each individual invoice per claim is an arduous process for clients trying to manage these cases, yet contain costs. Acuity's Mass Tort E-Billing solution allows for batch upload of invoices – meaning, one file upload can contain invoices for hundreds of claims. Within that one batch, the client can review all line items across all claims for that one region or project. Filters allow the client to parse out specific claims, specific tasks across claims, and focus on work a particular firm or timekeeper performed across multiple claims in the same time period – and within the one batch invoice. Flagged line items can be reviewed in one central location, for all claims, to ease the burden of reviewing every single claim's individual line items.
"When we first introduced our Mass Tort E-Billing solution in 2006, clients already had e-billing tools in place for their other departments. But because management of mass tort cases is unique, these clients required a unique billing tool to manage the invoicing process, which is why they chose Acuity for this particular litigation," comments Kelley Johnston, President of Acuity.
Since rolling out this solution, Acuity has recently added a number of robust features designed specifically to manage mass tort matters and invoices, such as cost share functionality, enabling the submitting law firm to easily identify those invoices which need to be split among a number of co-defendants; and global adjust features which provide the ability to adjust all line items, or filtered groups of items, across all claims, by specific dollar values, by specific rate values, and by percentage values. These features streamline the invoice review process even further, giving clients more precision in reviewing and controlling costs. And by adding the ability to budget by state or region, by firm and by year or quarter, corporate clients can more easily manage their overall legal spend, while at the same time focusing in on those particular high risk claims that require greater attention.
Kelley Johnston comments, "Being a former litigator of mass tort cases, I have a keen understanding of the obstacles clients face in managing hundreds of claims across all of their law firms. I knew that a basic e-billing tool was not going to fit the mass tort workflow. Our clients are pleased, and relieved, to finally have a solution that works specifically for their mass tort needs, and we are pleased to be able to provide the tools to help them."
About Acuity Management Solutions
Acuity Management Solutions was launched in 1996 as the first web-based legal collaboration and management service. Originally called TrialNet, Incorporated, the company offers advanced web-based technology to facilitate better legal management and cost cutting strategies for corporate legal and insurance claims departments. Acuity's web-based legal management tools include e-billing, matter management, collaborative databases, and VendorConnect cost management tools. To learn more about Acuity Management Solutions, visit http://www.acuitymanagement.com.
Media Contact:
Debra E. Weaver, VP Marketing & Sales
Acuity Management Solutions
Phone: 888.512.1763
Email: dweaver(at)acuitymanagement(dot)com