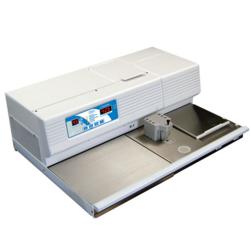 Vernon Hills, IL (PRWEB) April 22, 2013
Cole-Parmer's enhanced line of histology equipment offers options for laboratories to save time and space, and reduce fatigue for the histology technician. Items include:
The new Cole-Parmer® Tissue Embedding Station combines typical histology products into one module, requiring less benchtop space in the histology lab. Its low work surface and comfortable armrest reduces user fatigue. The station comes equipped with a microprocessor-based controller and a user-programmable timer to provide accurate temperature regulation and convenient monitoring of independently controlled heating and cooling elements. It features different zones for paraffin reservoir, warming oven, tissue holding tank, illuminated work stage, and compressor-cooled cold plate that can be programmed to cycle on/off or remain on continuously.
The new Cole-Parmer® Tissue Flotation Work Centers and Tissue Float Baths were designed with the histology technologist in mind: their digital temperature sensor does not require user calibration and a bright recessed LED array supplies a high-contrast background for improved tissue viewing without glare. A real-time clock provides time and date stamps for audit logging.
Similarly, the new TBS® SHUR/Wave™ Laboratory Microwave accelerates routine specimen fixation to approximately 10 minutes, while processing results in as little as 15 minutes. While fast, the results are also reliable. No xylene or hazardous chemicals are required—providing a safer user experience while saving on costs for use and disposal of reagents. The tissue-processing microwave maintains uncompromised morphology and antigenicity in samples while obtaining superior sectioning characteristics.
To view the entire expanded line of histology instruments and accessories, go to ColeParmer.com/20051 or call 800-323-4340 for more information.
Cole-Parmer has been a leading global source of laboratory and industrial fluid handling products, instrumentation, equipment, and supplies since 1955. Our product lines, including popular brand names such as Masterflex®, Oakton®, and more, are sold through company-owned customer channel outlets and a strong network of international dealers. We also feature an ISO-17025-accredited metrology lab for instrument calibration and repair. Cole-Parmer responds with excellence to customer needs, and offers application expertise and technical support. For more information, contact Cole-Parmer, 625 East Bunker Court, Vernon Hills, IL 60061. In the US, call 800-323-4340. International customers, call 847-549-7600. Visit us at ColeParmer.com