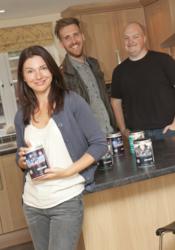 Earth Day aside from January in 2015, there is a very serious aspect to legal requirements for Laundry. Whereby laundry regulations state that all washing formulas must be biodegradable and phosphate free
London, Northamptonshire, Warwickshire, Midlands (PRWEB UK) 23 April 2013
No compromise, "Clean and Green are two things we take very seriously," says Louise from Distinctive Wash Ltd. Technology has been getting better and better in laundry and the industry has known for generations the negative effects of phosphates on aquatic environments. And yet it has taken the ruling of new legislation due to come into effect, to make manufacturers start to think about changing their formulas.
Phosphates are used in plant foods and lawn preparations to make them green up and grow faster, and they have that same kind of effect within a water source, causing blue green algae to flourish in local streams and ponds, starving aquatic life of oxygen.
Water treatment plants have not been able to remove phosphates easily from the dirty water going through the drainage systems. So it has taken strong legislation coming into effect to force manufacturers to start switching over to other chemical surfactants in their washing formulas to prevent such a huge quantity of phosphates getting into the water supply.
"Green formulas are no longer the poor wash relation and I'd challenge anyone to try Distinctive and think it gave substandard results on wash performance." said Louise.
On their website and within marketing material they are honest about a small chemical element within their fragrance that isn't fully biodegradable. "But we meet with the regulations," says Louise. "If you wanted to be 100% green, the products you choose around the home and for your hair and skin would need to be devoid of any fragrance whatsoever. The benefits of improved state of mind and wellbeing that we attribute to well made fragrances are incredible and an important part of life that most people wouldn't want to live without. We would certainly miss the seductive smell of a good perfume or aftershave."
Earth Day aside, from January in 2015 there is a very serious aspect to legal requirements for Laundry. 2015 laundry regulations state that all washing formulas must be biodegradable and phosphate free. Phosphate reduction laws are actually in place from June of this summer.
Said Louise on behalf of Distinctive Wash Ltd, "To save us the hassle of recreating our formula, (and because we should all be responsible in our choices towards caring for the environment) we have started with the best possible formula we could source. Knowing legislation was coming into force was a big factor behind our original brief with manufacturing partner Ideal in Northamptonshire."
Distinctive's protease enzyme is specially designed to be activated at cool wash temperatures and quick wash programs, not only saving time as the water doesn't need as long to heat up, but also keeping energy costs down, which is always a good thing. "Enzymes are even effective at removing biological stains like blood at temperatures this low," says Louise. "So other than an occasional high wash program to clean your machine washing at temperatures shouldn't be necessary."
By providing a product without optical brighteners, they are also ensuring another unnecessary chemical isn't in the product. Optical brighteners are well known to aggravate sensitive skin conditions such as eczema and also cause an irreversible build up which appears as fading, on coloured clothing.
There is a serious side to failure to comply with these laws. If detergents are placed on the market in Europe, and do not conform to certain standards on content, or the manufacturer is not able to provide information on it when requested, repercussions may include a prison sentence for up to two years, a fine of up to £5,000 or both.