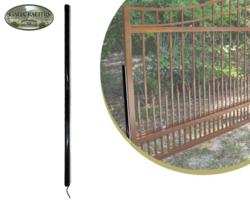 Odessa, Fl (PRWEB) April 24, 2013
Since GateCrafters began producing custom driveway gates in 2002, they've been providing customers with safety-centric products and accessories. In accordance with that mission of safety, they've released GateCrafters GC-223 Safety Edge Contact Sensor. This easy-to-install device is designed to protect materials that come in contact with the gate and allows those with heavy gates or windy conditions to exert higher amounts of pressure to move the gate open and closed without fearing damage resulting from the added pressure.
By placing the Safety Edge on the swing or sliding face of the gate, the rubber contact strip is able to absorb the shock of any accidental contact with a car without scratching or damaging the paint. The built in electric contact sensors will then trigger the gate to reverse direction and reopen. Customers living in windy conditions or those who have a very heavy gate may have to program the gate to exert higher amounts of pressure to open and close consistently, however, this could reduce the safety benefits of higher sensitivity settings. With the Safety Edge installed, the gate opener setting can be moved up while still maintaining a quick reaction time to obstacles.
The GC-223 Safety Edge Contact Sensor is a universal and aesthetically pleasing model that is compatible with most gate openers and features a sleek and unobtrusive design, so it won't take away from the beauty of a well-designed custom gate. David Rivera, sales manager at GateCrafters.com recounts, "We've been getting very positive feedback from new and existing customers regarding how streamlined and inconspicuous it is compared to other models." Though it can be used to enhance the safety of both sliding and swinging gates, it is most effective with sliding gates. The Safety Edge can also be made wireless with the addition of the Miller Edge Wireless Activator or the Estate Swing 433 Adaptor/Receiver.
To learn more about the GateCrafters GD-223 Safety Edge Contact Sensor please contact Lucas Carlaw at 1-800-537-4283 or visit http://www.gatecrafters.com.
GateCrafters.com is a division of Web Direct Brands, Inc.
Web Direct Brands, Inc. has been providing a unique retail experience over the internet for over 10 years. Specializing in products that are hard to find or require assistance to choose or install Web Direct Brands, Inc brings to those industries a team of highly trained support representatives backed by information rich web content.