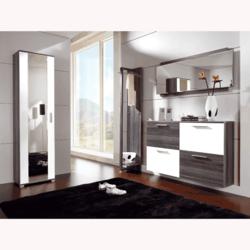 FurnitureInFashion Announced the Launch of Stunning and Brand New Intro Ash Hallway Furniture Range
(PRWEB UK) 24 April 2013
Looking for furniture that can keep your hallway organized and clutter free? FurnitureInFashion, the leading furniture supplier in the UK, has developed the perfect solution to store hallway clutter with the launch of Intro Ash carbon and white hallway furniture range. The Intro range Ash carbon has MDF surrounding and glossy front in walnut. This beautiful combination in hallway furniture is part of a complete solution for modern hallway requirements. It is an absolutely stunning fusion of Italian design concepts with the reliability of German manufacturing processes to create ultimate customized furniture. Intro Ash furniture range eliminates the need for hiring interior designer as homeowners can make their hallway functional easily with this range. This contemporary Ash carbon and white hallway furniture comprises of units that can be used in their original form or doubled or even tripled form to create ultra long units.
Intro Ash carbon and white hallway furniture range comprises of wall mirror, wall mounted shoe cabinet, wall mounted hallway stand and wardrobe. The Intro Ash carbon wall mirror has a contemporary design and is a stunning addition for any hallway. The mirror has been cut brilliantly in modern design to provide stylish ambience to the hallway. With glossy walnut and white finish, this shiny bright mirror will make your hallway area look open and wide. The best feature of Intro Ash mirror is that it can be adjusted to different types of surfaces. With a width of 140 cm, depth of 5 cm and height of 60 cm, Intro Ash carbon wall mirror can be a great addition for a hallway, dining and living space.
Intro wall mounted shoe cabinet is available in ash carbon and white finish. The shoe cabinet has four spacious compartments for storage. The compartments have four pull down shoe storage doors with stylish handles. All the shoe storage compartments have metal baskets behind the doors. These metal baskets are highly durable with enormous space for shoe storage. This shoe storage cabinet can hold approximately 24 pairs of shoes at a time. Homeowners can organize their shoes according to their regular use. The hallway will look extremely tidy with this wall mounted shoe cabinet. The doors of the shoe cabinet add modern touch to the cabinet. The dimensions of this cabinet include a width of 140 cm, depth of 30 cm and height of 85cm.
Intro Ash carbon wall mounted hallway stand is a stylish offer of Intro hallway range. This stunning wall mounted hallway stand has two metal hooks and a hanger rail in steel finish. It offers ample space to hang coats, hats, scarves and umbrellas. This stand can be a great addition at workplace. With a width of 40 cm, depth of 32 cm and height of 200 cm, this stand will consume very less space on the floor. Last but not the least, Intro hallway range offers stylish wardrobe in ash carbon and white colour. It is a perfect addition not only for hallway but for bedroom as well. This cupboard has stunning 4 silver finished feet to balance it out on the floor. The front door of this cupboard has a mirror and soft close function. Material of the highest standard has been used in the manufacture of Intro Ash hallway furniture range.
To have a look at cheap hallway furniture range online and to place a pre-stock order, please visit the company website today at http://www.furnitureinfashion.net. The range of cheap hallway furniture online at the website is huge, delivery is fast, savings are massive and the quality is guaranteed.
About FurnitureInFashion
FurnitureInFashion is a UK based online retail business. It supplies furniture items from its German based warehouse and has a showroom in Bolton, UK. The company provides everything from umbrella stand, wall art and room dividers to bedroom, bar stools and computer tables. FurnitureInFashion offers excellent free delivery within UK and has a fantastic customer service as well. For further information and details about the sale, please visit http://www.furnitureinfashion.net